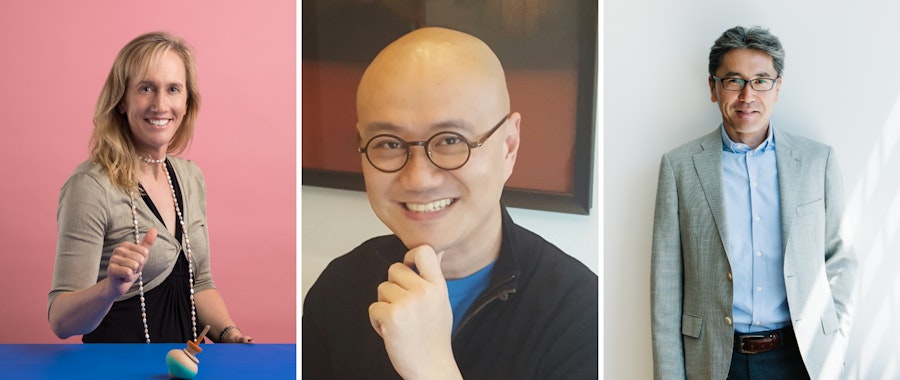 Work Culture
•
April 8, 2020
What does it take to lead a business through a crisis?
The COVID-19 crisis is creating unprecedented global repercussions, raising important questions about the role of leaders during a crisis, whether that is within government, business, family and friendship circles. Many of us have found ourselves having to make decisions we've never had to make before.
Crises like this don't just build character, they also reveal character. In the business world, we've seen how leaders have risen to the occasion and in some instances, stepping in to fill the gaps of governments by taking the initiative to put the health and wellbeing of their people and communities first.
At Dropbox, we were one of the first businesses in Singapore, Japan and then Australia to roll out remote working for our entire teams - a policy which has just been extended through the end of May.
In this piece we speak to some of the leaders from the region and get to the heart of how they're having to making some of the hardest decisions they have had to make as leaders.
Staying focused on what matters
In the week leading up the pandemic becoming a serious issue in Australia, there was an event scheduled at the Dropbox Sydney office for International Women's Day. One hundred attendees registered to attend and hear from female leaders from major businesses across Australia. The team had worked tirelessly and it was going to be one of the largest events we have held onsite.
Two days before the event, Jennifer Reddington - APJ Business Manager and site leader of the Sydney office had a hard decision to make.
"At the end of the day, we had to put the health of our staff, our attendees and our community first. Sure, we could have run the event and run the risk that someone was unwell, but we decided that we had to do the responsible thing and put the health of everyone first" said Jennifer.
Dropbox made the decision to cancel the event on Wednesday the 4th of March, and by Friday the 6th of March, the company decided to move all of the global teams to remote work, and Jennifer made the announcement to the team.
"At first we only planned on rolling the process out for two weeks. But we quickly realised that the rest of Australia was close behind us and the government was soon recommending everyone work from home if they could. In retrospect, we were ahead of the curve and this was a good thing."
"At the end of the day, we had to put the health of our staff, our attendees and our community first." - Jennifer Reddington, Business Manager Asia Pacific and Japan
In speaking about what businesses should do and the advice she'd give to other Australian businesses Jennifer said "Focus on what's important to your business, it can be very easy to over-rotate on what's going on outside, but at the end of the day you need to focus on what you can control and impact as it relates to maintaining your business. For Dropbox, we've got a responsibility to keep things rolling, to look after our staff and help our customers. We take that responsibility seriously."

This is a very unique situation, and while the team are working through it day by day, the leaders are making the best decisions they can to keep the business moving and keep the people safe.
"I'm using every management skill I've ever learned. I've had the incredible opportunity to work with some amazing managers in my career, and when I've been unsure, I've thought about how they would tackle this opportunity. My strength as a leader is operations and focus on what's in front of me, which is incredibly helpful in this situation."
Maintain trust, lead with confidence
Not long before the crisis began in earnest, the global team visited the Singapore office to run business continuity training. This prompted the team to begin thinking about how to handle a country-wide crisis, and what would need to be in place.
According to Su Hock Koh, head of Business and Partners in Asia "In Singapore we aren't prone to earthquakes or fires. Singapore was more prone to a disease outbreak or other social disruptions, and we identified these risks early on."
Being densely populated, and in close proximity to countries with high infection rates in the initial phases, Singapore saw COVID-19 cases ahead of the other regions.
"It was two or three weeks after initial outbreak in China, when the government began giving (formal) advice to citizens." Said Su Hock.
"As soon as we had the first case in our building, we decided to roll out the policy to protect our staff. Shortly after, the Singapore government raised the alert level from yellow to orange." Singapore was the first Dropbox office to roll out this policy, making this decision one that would influence the global teams going forward.
"Our global team puts a lot of faith into local leaders empowering us to make decisions that put our people's health and safety first." - Su Hock Koh, Head of Business and Partners, Asia
According to Su Hock, managing a business during a crisis like this is incredibly dependant on trust, within the business and outside it.
"Dropbox has a very unique and empowering structure, and I have immense faith in my direct reports and managers. Our global team puts a lot of faith into local leaders empowering us to make decisions that put our people's health and safety first."
By the same token, the business needs to have trust that the government is sharing the right amount of information in a transparent manner, for us to make the decisions we need to, and that the government guidelines are true and honest.
"The level of trust in Singapore with the government has also helped us manage the situation, when the information released by the government is seen as credible and benefitting everyone, the citizenry generally has faith in what they (government) have to say, and that makes the management decisions easier as well.
Being prepared for the unexpected
Koki Igarashi is the head of Dropbox Japan and Asia Pacific. This means that when the crisis hit, some of Koki's offices were directly affected by the first cases coming out of China.
He said one of the hardest challenges, especially early on was making sure everyone was taking the situation seriously.
"At the start of the crisis, the Japanese government was making recommendations but they weren't imposing hard and fast rules. As a leader, it was up to me to put the safety of our staff members first and ensure that they could continue to work while keeping them and their families safe."
This isn't the first time Koki has led a team through a crisis in Japan. "In 2012 I was working with Microsoft when the Fukushima Daiichi nuclear disaster occurred. At the time we had 3000 employees either working from home, or remotely. We had our whole support staff moved from Tokyo to Osaka so that they could keep working effectively while the leadership team met on a daily basis to decide our next step."
"That experience gave me a new set of skills to manage the business and ensure the staff are able to do their jobs and keep the business moving."
"I think that this will be a trigger for companies to move to a more enlightened way way of working. There are lessons here that businesses can take back when they are able to go back to normal ways of working." - Koki Igarashi, Head of Asia Pacific and Japan
When preparing for this kind of major work shift, Koki believes the preparation will only get you so far, and that you need to get into the thick of it and keep making decisions as you go, or else be caught off guard. "Initially I thought that working from home wouldn't be a big deal for our employees, because they're good with technology. But it goes beyond having the infrastructure and the technology in place. It is also about how deciding how to use technology to give people context, stay connected, and maintain health and wellbeing."
Koki acknowledges that when the teams are distributed, it puts more pressure on managers to stay in touch and check in with their team members. But at the same time, managers need to have trust in their staff that they are able to do their jobs without someone watching over their shoulder all the time.
"I think that this will be a trigger for companies to move to a more enlightened way way of working. There are lessons here that businesses can take back when they are able to go back to normal ways of working."
There's an opportunity in this situation, that traditional businesses that wouldn't normally embrace technology or consider more flexible ways of working are forced to. At the end of the day that opens more opportunities for staff when things go back to normal, and could see more people working in ways that are better for them.
"This is a very unfortunate situation, but it is also an opportunity to be more empathetic and give people the opportunity to design a way of working that works for them."
If you have questions about this story or want to speak with a member of the dropbox team, you can reach us at drop-everything@dropbox.com
...and we'll deliver fresh, inspiring news and updates on all things Dropbox and industry related. Just enter your email and you're good to go!