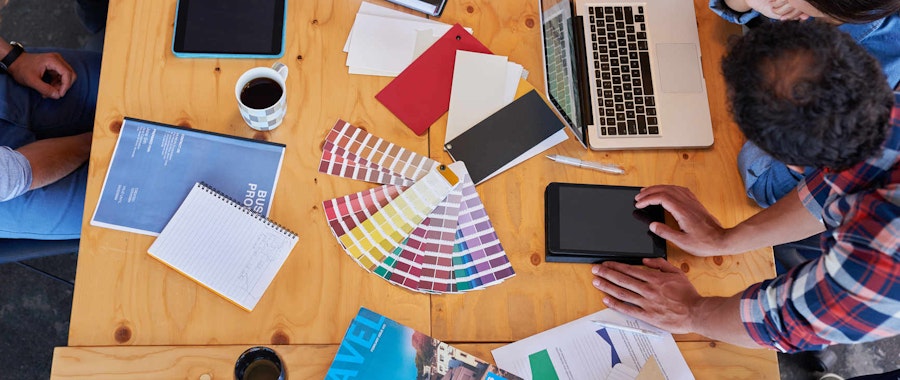 Work Culture
•
November 30, 2017
Trust Your Gut: How instinct can lead to faster and better decisions
What intuition is, and the ways that it can help you make hard decisions faster and more accurately.
Gut feel is a hard thing to describe. Butterflies, tingling, or just an overwhelming sense that something is wrong can all be classified as gut feelings. Much like the feelings that come from it, many people find it hard to identify what exactly a gut feeling is, or where it comes from. 
Gut feel is often described as instinct: however, this is not exactly correct. Instinct refers to the body's biological tendency to make one choice over another, an inclination to a behaviour that happens in response to stimuli. A baby knowing how to feed when born, or a  monkey being afraid of a snake despite never having seen one are both examples of instinct. 
Intuition is what's usually referred to as a gut feeling, formed by a collection of memories, beliefs, experiences, and past behaviour. And it's intuition that's drawn upon for quick, accurate decisions.
Hana Ayoub, a professional development coach, says "your gut is this collection of heuristic shortcuts. It's this unconscious-conscious learned experience centre that you can draw on from your years of being alive," she explains. "It holds insights that aren't immediately available to your conscious mind right now, but they're all things that you've learned and felt. In the moment, we might not be readily able to access specific information, but our gut has it at the ready."
Where They Come From
Gut instincts come from the enteric nervous system (ENS), the neural network lining your digestive tract. The ENS has more neurons than the spinal cord, and 90% of those neurons carry messages to the brain, making it an enormous affector of mood. And this is only half of it. The enteric nervous system communicates with bacteria in your digestive system, recognising and generating feelings like stress or excitement. It also sends emotionally charged sensations known as somatic markers, which can be conscious or subconscious. If you've ever felt butterflies, clenching, or tingling, that's your gut talking. 
The gut can provide internal clues, useful for rapid decision-making. Researchers from Cambridge University found that when participants were presented with a card game designed to have no obvious strategy, the ones that did best were those that paid attention to their intuition. And in a study on traders during financially volatile times, there was a direct correlation between traders' ability to sense their own heartbeat and their performance in the financial markets. The traders that could pay more attention to their bodily signals made more money. Even the legendary George Soros reported that he knows he has a bad position in the market when his back starts spasming.
When They Work Best
Of course, gut feelings don't work best all the time. Some situations are better than others. Subjective, open-ended decisions, like design choices or word order, are ideal for a thumbs up or a thumbs down. More rational problems, like crafting an argument, conducting research, or reviewing legal cases are better for objective analysis.
Gut instincts work best for snap decisions under pressure, in situations that utilise pattern recognition. In one study, when subjects were given a fraction of a second to solve a visual problem, they were 95% correct, as opposed to 70% correct when allowed more time. "Falling back on our inbuilt, involuntary subconscious processes for certain tasks is actually more effective than using our higher-level cognitive functions", said Dr Li Zhaoping.
Accuracy of instincts is linked to levels of experience, as intuition is an aggregate of internalised patterns. The more we experience events, the more information our intuition has to draw on, and the more components of new situations our intuition can recognise. So the pros are better off thinking less and feeling more. One study on professional and amateur golfers found that while novices did better when given cues on technique, pros did worse. Experts are better off speeding things up, and do what they're practised at doing.
How To Incorporate Gut Instinct At Work
Make time for gut checks
To use gut instinct, one needs to first pay attention to it. Try blocking out time for making gut checks, and schedule these in regularly. Even a five-minute break after a difficult meeting can help.
Keep practising
Research shows that the more frequently someone incorporates subconscious information into their decisions, the better they become at applying their intuition. Just as logic and reasoning become more comfortable companions in decision-making when used more often, intuition can become more trusted over time. 
List the times your intuition was right
If you have trouble trusting the nebulous rumblings in your stomach, make a list of the times that your gut was right, and add to it. That will build confidence that your gut is right, and also help evaluate the situations which the gut is best at. 
Give yourself constraints
Lou Leone, founder of Leadinacy, a management consulting and executive coaching firm for startups, has seen over-analysers in her time. Her remedy? When faced with a tough choice, only give yourself half an hour to make it. "At the end of that half hour, you're going to have to use your gut. That forces you to be more instinctive", Lou told Fast Company. 
Be aware of bias
Because intuition relies on limited information, it can fall prey to the influence of stereotypes. So does this make it dangerous? Not necessarily. A paper demonstrated that people can detect their biases even when they make intuitive responses. When using intuition, one needs to override faulty instincts. To discover your biases, Google's Unconscious Bias workshops are a good place to start
Combine feelings with facts
Intuition works best when combined with expertise. The case studies in Malcom Gladwell's Blink, such as the marriage consultant who can predict marriage length with considerable accuracy after analysing conversations between husband and wife for only three minutes, and our pro golfers, experts in the field with access to knowledge are most accurate in their intuitive judgements. To make a decision, find out all the facts first, then let your intuition decide.
...and we'll deliver fresh, inspiring news and updates on all things Dropbox and industry related. Just enter your email and you're good to go!