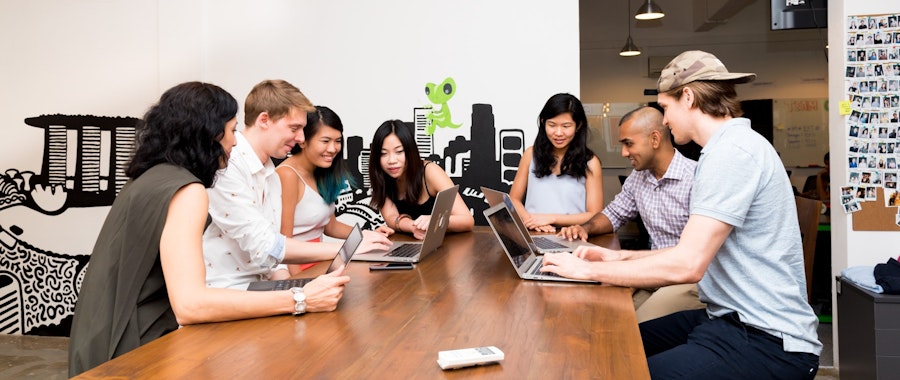 Work Culture
•
June 20, 2016
TradeGecko designers saved by Dropbox Business
Dev and design are detail-heavy disciplines – lots of programs, lots of formats, lots of files, lots of feedback rounds. It's common for filenames to swell from 'Version 5', to 'Final Version', to 'FINAL Final Version' and beyond.
So when the Kiwi-born, now Singapore-based software provider, TradeGecko, saw rapid growth after their formation in 2012, it was their developers and designers who first felt the strain of the swell.
In mere months, the team tripled in size. The floor was a flurry of team members passing flash drives back and forth, endless Airdrops and machines weighed down by local files. Details were missed as edit versions went into the double digits. Dealing with everything from software-related projects and marketing collateral to supersized Photoshop, Illustrator and Sketch files, the need for a more robust, real-time file sharing solution came to the fore.
The company set up a Box account – but as Senior Designer Alex Smee recalls, "the experience was sub-optimal". On discovering that many TradeGecko employees were already personal Dropbox users, the company opted for Dropbox Business.
For Smee, the ability to share projects, contribute to more than one project at a time and keep track of file versions was a godsend. "From a design team point of view, Dropbox Business removes all the headaches," says Smee. "It allows us to simplify things and to remove any sort of team collaboration struggles from our day-to-day work."
Local drives are no longer chewed up by large files, as Smee explains, "Our marketing materials sometimes involve videos that take up lots of gigabytes, and that's when the Dropbox Business selective sync feature becomes very important."
"The best thing about Dropbox Business is that it works seamlessly with OSX. We work on files as though they're local. Everything's up-to-date, everything's synced, everything's backed up."
The broader team appreciates Dropbox Business as well, especially the ability to preview files and keep an eye on progress. Co-Founder and CEO Cameron Priest says, "I don't have Adobe Illustrator installed on my computer, but I'm still able to sit down with Dropbox Business and look through all the latest files that have been created with it."
Sharing outside TradeGecko has become more straightforward too. Getting input from lawyers, managing HR files or financial documents, and sorting employee paperwork is kept tight with file permissions settings, ensuring documents are safe, secure and shared only with those who need them.
It's all had a very positive affect on the business – workflows are tidier, turnarounds quicker and silos a memory.
"We couldn't have a design team of seven people without a solution like Dropbox Business," says Smee. "We would have to work in silos, and would completely lose the collaborative element—which we value tremendously."
Priest agrees. "There's not really another option for designers like Dropbox Business. It's the easiest, most seamless solution for the type of collaboration problems we were facing."
Find out how TradeGecko and Dropbox are working together. Download the full case study here.
...and we'll deliver fresh, inspiring news and updates on all things Dropbox and industry related. Just enter your email and you're good to go!