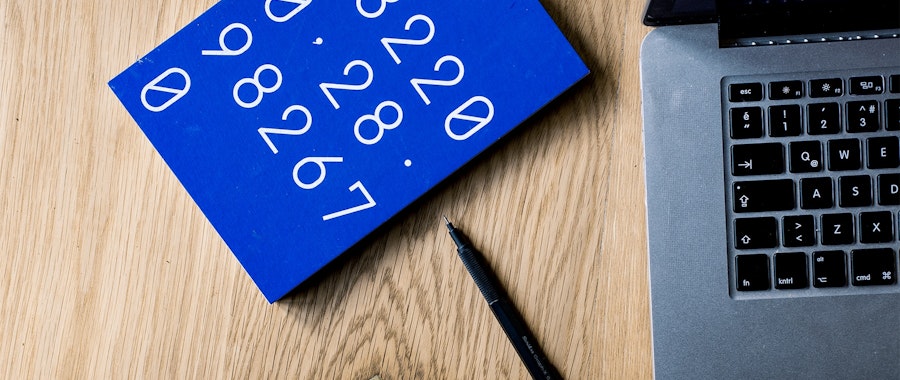 Made in Dropbox
•
December 10, 2020
Tech and taxes - how Eagle Financial flies over the competition
Eagle Financial Business Accountants are using Dropbox, HelloSign and other smart tech to overhaul how Aussie businesses are tackling their finances - read on to find out how.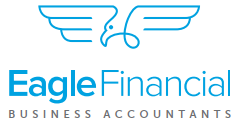 In 2018, there were over 800,000 people employed around Australia in Financial Services roles, accounting for over 6% of employment across the Australian economy. These workers touch the lives of most Australians who rely on the industry to manage their wealth and financial security. It's one of the most heavily regulated industries in Australia, and rightly so - because for businesses like Eagle Financial Business Accountants, being secure and understanding their clients' business challenges is essential to running a great business.

A company like Eagle Financial, founded on the Northern Beaches of Sydney back in 2008 employs a handful of financial specialists/accountants who work with businesses nationally. This tightly-knit team specialises in understanding how their clients do business, and helping them to grow.

Eagle Financial's offering is pretty simple at the end of the day - working with passionate startups and small businesses in Australia, and taking the financial load off so that they can focus on getting things done.
Technology by the numbers
Back in 2008 when Eagle Financial first started business, the accounting industry was a very different place. "Back then it was letters, and sending documents out in the post, and we'd send tax returns in envelopes to be signed physically" Said Adam Johns, Partner at Eagle Financial. "It was five or so years after that we started to switch to purely email communication"

As you could imagine, running a purely paper-based business is time consuming, as well as expensive - not to mention the amount of paper required can be astronomical. However, this was the state for the entire financial services industry until recent years. According to the Pulp & Paper Industry Strategy group, Australians consume around four million tonnes of paper annually - which is close to 230kg per person.

"The first big change tech-wise, was going from physical client records and printing final tax returns and financials, to using Dropbox by downloading and saving everything online in a nice clean folder structure. There go 20 filing cabinets of records, right down to about five filing cabinets now" said Adam. While there are still crucial documents that need to be stored physically, Eagle Financial has been able to significantly cut down on the amount of paper printed and stored in the office.

"And then from about 2019 - that's when we started the journey to the digital signature side of things, instead of having clients email, print, sign and return documents." Adam and the team at Eagle Financial have recently been using HelloSign to speed up and secure their signature process.

By the numbers, the team has saved an average of 5 mins per document in the signing process, which over the course of 12 months equates to more than 610 hours saved over some 7,000 documents, and a cost saving of more than $24,000.

All this preparation came in handy in 2020, when the team was forced to work remotely as a result of the 2020 COVID-19 pandemic.

"Our staff were out of the office for about a month and a half or two at the most" For Adam and the team, getting their staff back into the office as soon as the regulations would allow was crucial. He called out that with the amount of information, back and forth emails and collaboration on different clients, working in the same office space really speeds up their processes. However, for the small time they were remote, the team adapted well.

"If we didn't have Dropbox and HelloSign, it would have been an absolute nightmare. But because we had those in place we didn't really change the way we operated."
We've had so many customers that have come to us over the past three months. Just saying: 'I came to you guys because you've got so many good reviews.'

- Adam Johns, Partner at Eagle Financial
Banking on passion
If you were to look at the website of most accounting firms around Sydney, you'd probably find a lot of the same specialties - small businesses, bookkeeping, payroll, tax planning and reporting. But Eagle Financial is looking at how they can fill niche requirements for some of Sydney's most iconic burgeoning industries.

Adam and the team use their website to specifically call out their expertise in breweries, food trucks, coffee vans, construction and e-commerce. These specialties are driven by individual team members, and Eagle Financial encourages staff to pursue their own passions, in-turn attracting clients within these niche markets and helping with industry specific pain points.

"On the Northern Beaches, we've got a heap of trades and builders. So at least 50% of our businesses in our client base are in the construction industry. And then off the back of that one of our partners, Paul Tesoriero, is the treasurer for the Northern Beaches fraction of the Master Builders Association."

Eagle Financial found that by having team members who are passionate about a particular industry, said staff develop themselves to enable and share their passion and knowledge, it is easier to then market those specialties and grow the business using that niche.

This then feeds back into the company's approach to enhance individual team members growth, the website, SEO and customer acquisition. In building how they connect with customers, the team is focused on making sure these niches stand out first and foremost when new customers find the business, and marketing themselves as specialists that understand their a business inside and out.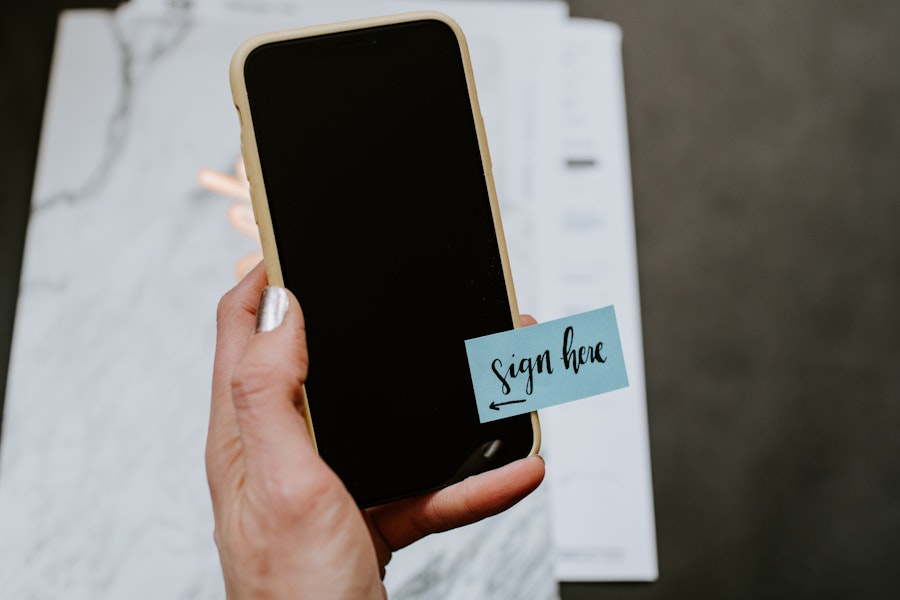 Google reviews, communication and customer check-ins
One of the ways Eagle Financial has grown and evolved over 2020 is in how they collect reviews from customers. While the team has been working hard and changing the way they're working every day - they wanted to thank customers, and reward team members who are doing incredible work.

In order to do this, they set up a blind landing page that clients land on after completing a HelloSign document. The page includes a note from the founders outlining the changes they made over the course of 2020, thanking customers for coming along on their journey with them. It outlines how 2020 has been a challenging year for all of their clients, as well as the team, and highlights the hard work of the accountants.

The final note on that page asks customers to leave a review on Google or Facebook, to help Eagle Financial reach more customers.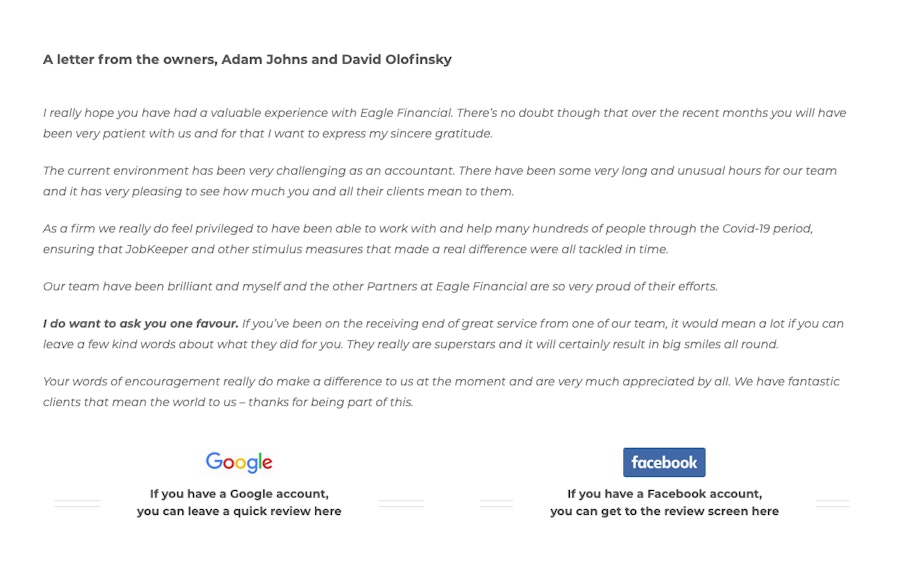 The goal was to ensure that customers feel attended to, that they know the team is looking out for them and adding a personal touch to their interaction with Eagle Financial.

However, this process and the added personal touch has pushed customers and the Eagle Financial team to put more attention on their reviews, going from around 20 reviews on Google at the start of 2020 to over 100 reviews at the time of writing.

This in turn has helped grow the business, which is currently operating out of the Northern Beaches, Newcastle, and Northern Rivers of NSW. Said Adam, "We've had so many customers that have come to us over the past three months. Just saying: 'I came to you guys because you've got so many good reviews.'"

By ensuring that customers have a streamlined and secure financial process, Eagle Financial has been able to create a business that operates more effectively and more securely.

Adam and the team have been looking long and hard at how technology can work for them, and how tools like Dropbox and HelloSign can work for the business, and their customers to keep producing bigger and better results.
If you have questions about this story or want to speak with a member of the dropbox team, you can reach us at drop-everything@dropbox.com
Find out more about Eagle Financial Business Accountants here.
...and we'll deliver fresh, inspiring news and updates on all things Dropbox and industry related. Just enter your email and you're good to go!