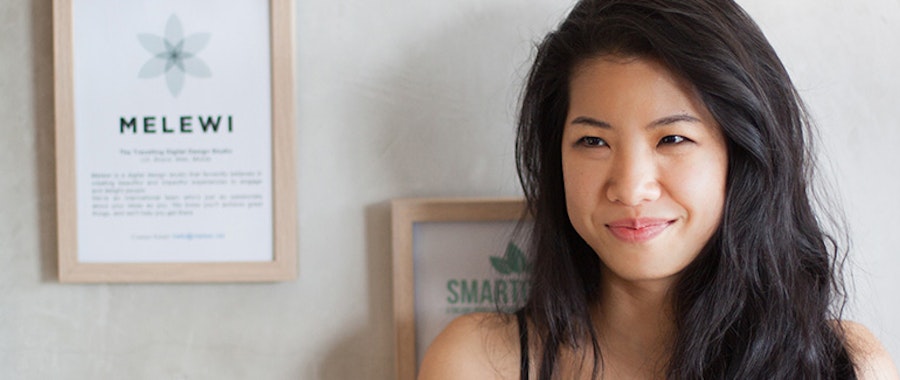 Work Culture
•
September 12, 2016
One team, no base: How Melewi works worldwide with Dropbox Business
"I thought, why can't everyone in my team work remotely?" Melissa Ng talks about running a global team without a home base.
The result is Melewi, a travelling design studio with no physical home base, but a team connected around the world designing for international clients like McDonalds, Samsung, Visa, and smaller start-ups.   
"Our team is truly global, which is a  real advantage when building design products that need to speak to everyone, everywhere," Ng explains. "We have designers in Singapore, the Philippines, Greece, India, Brazil, Denmark, the UK, and the USA."  
A global workforce means that  Melewi  can offer its clients a greater understanding of nuanced markets as well as the enhanced perspectives  that come with a  global team.  It also brings a dynamic  blend  of cultures, influences, and design backgrounds into the mix while keeping day-to-day costs down.
But how do you run a global team and  at the same time keep  everyone in sync? Ng tried other file sharing solutions, but ultimately turned to Dropbox Business for its ease of use, security, and familiarity of the platform within the design community.  We talked with her to find out how this helps Melewi hum. 
Working around time zones
With a team and clients that wrap the globe, designers can't wait for head office opening hours to access the materials they need. As Ng explains, "We need designers to be able to access materials at any time. We can't have anyone disadvantaged because of a time difference."
Operating completely via the cloud runs pretty smoothly. For starters, nothing is on one person's desktop – Melewi keeps everything from files, assets, and contracts on Dropbox Business under a strict folder and file structure to ensure everyone knows where everything is at all times.
At the start of a project, two identically structured folders are created – one for internal use, and the other which is shared with the client. Each team member can create different folders as they need them to share with different people. As files are worked on and milestones are reached, final versions are delivered into the client's folder.
This system works well – live previews speed up the process by letting team members and clients glance for the right version, comments are left in feed, and everything else is sorted out over a video call.  
Communicating from afar
Operating completely via the cloud means that  Melewi  isn't tied to a physical office or weighed down by servers – but communication is key.
Communication used to be a pain point for Melewi. Ng recalls the early days, "We didn't have Dropbox set up initially, and we didn't have a structure for files. It was confusing – we had millions of emails floating back and forth, and you'd be hounded from people to send you files."
Dropbox Business was a natural salve to the communication overload, as most team members had their own personal accounts already. Ng says the decision was easy.
"Once we had a file structure sorted, it made it much easier because everyone was on the same page," says Ng. "We've cut down on time searching for documents and the amount of file requests has dropped to maybe 1 per month."
That internal ease makes collaboration with clients more fluid and holistic. But talking shop isn't the only thing to consider – when working with a fully remote team, it's just as important to keep spirits high. "It's really important to set up a regular cadence with the team, and spend a lot of time on video chat," says Ng.
On top of regular team meetings and one-on-ones with staff, it's important to take the time to talk about silly, unimportant things to build comradery. "You have to find the right people with the same values as you to work with," explains Ng. "If you don't have the right people, it makes it harder than it has to be."
Security for  peace  of mind 
The security features of Dropbox Business is one of the major draws for Ng to the platform.
Dealing with pan-continental brands, Melewi often has to handle top secret designs, UX journeys, and strategic briefs, as well as day-to-day HR documents and contracts. Toggling sharing controls between teams means only the intended people can see any given file.
File recovery is a godsend too – Ng recalls the time a new team member accidentally deleted some documents from their desktop Dropbox folder, not understanding that what is on the desktop is a version of what the whole team has access to.
"Luckily we were able to restore the files," Ng laughs about it now. "They all came back really quickly."
Going forward
With a decentralised team spread around the world, Melewi relies on Dropbox Business as a central hub for any files, templates, or documents needed in the day-to-day. Knowing it's all safe, secure, and synced to the cloud, means even though they're all in separate time zones, everyone stays on the same page – good design never sleeps.
...and we'll deliver fresh, inspiring news and updates on all things Dropbox and industry related. Just enter your email and you're good to go!