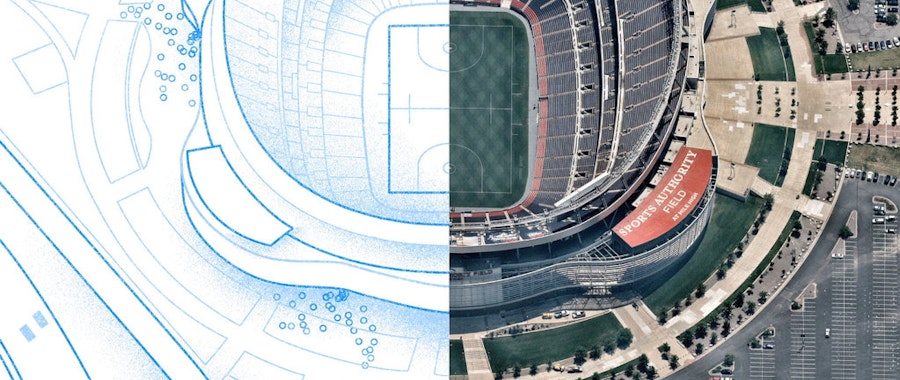 Made in Dropbox
•
July 19, 2017
Capturing The World With Nearmap
Nearmap moves fast, in all senses of the term. The aerial photography company founded in 2000 has grown to a team of over 140 staff across three offices – two in the U.S.A and one in Sydney. But it's time to go bigger, faster.
Google Earth for Grown Ups
"The best way to describe our business is that we fly over major population centres, take thousands of photographs and turn those into maps that companies subscribe to," says IT Manager, Michael Badham. Unlike Google Earth (who's satellite imagery can sometimes be years old) Nearmap can clock a whole city at a lower altitude in high resolution and they update more frequently too (every couple of months in most cases). With camera and mapping tech designed completely in-house within Australia, they are used by clients from infrastructure, insurance and government agencies to make big decisions quickly.
For example, Nearmap will often shoot a flood-affected city at a time of crises, so that insurance claims can be instantly assessed. Local councils use the technology to monitor tree coverage and where trees need to be planted. And infrastructure companies use it to gauge the viability of future projects. 
Managing international expansion
When Nearmap's directors sought an international expansion, Badham saw an opportunity to reset the way they worked collaboratively from office to office.  "We used to have to use a VPN to get files – there was a lot of emailing of documents and file versions that made things difficult. My vision when I came on board was to get as many things cloud-based as possible to allow people to work from anywhere – especially when they say 'we may need to set up in a new location quickly'."  With over 15 years of IT experience, Michael's experience has led him to a 'cloud first' mentality, pivoting companies so that their systems are built into the cloud and can be accessed anywhere (backed by 2-factor authentication to keep security fears at bay). 
A 'cloud-first' mentality
Badham's way of working was developed in a previous role as IT Director at New York based Real Estate startup Compass, where he oversaw the digital transformation of a 25 person team into a 750 person network, all working remotely across the US. "From an IT point of view, it was the only way to set up with minimal IT staff. You would pay Dropbox to worry about security and infrastructure and deal with any issues that came along while keeping the IT department small and lean…I was completely converted from that point on." The first port of call at Nearmap was to use Dropbox as a file server replacement, "we're a global company with offices in the US and Australia with our sights on future expansion, so I wanted something that was readily available and accessible from anywhere." Each department has ownership of a team folder that replicates the structure of their server, so the system is virtually the same, and accessible anywhere. 
Work from anywhere
Based between Sydney and Salt Lake City, Utah, USA, they have staff across the US in Montana and Washington DC, as well as in Adelaide, Melbourne and Hong Kong. "I'm trying to get all the IT systems to a point where it doesn't matter where we open an office we can just get things going". With just a few more systems to move over into the cloud, he estimates he's around 3-6 months off that goal.
"There is a push now to be more flexible and allow people to work from home when needed, so it's definitely where we're getting most of the positive feedback. Plus any department who has lost a document or accidentally erased one, and been able to recover it easily, that's a real big bonus for them."
...and we'll deliver fresh, inspiring news and updates on all things Dropbox and industry related. Just enter your email and you're good to go!