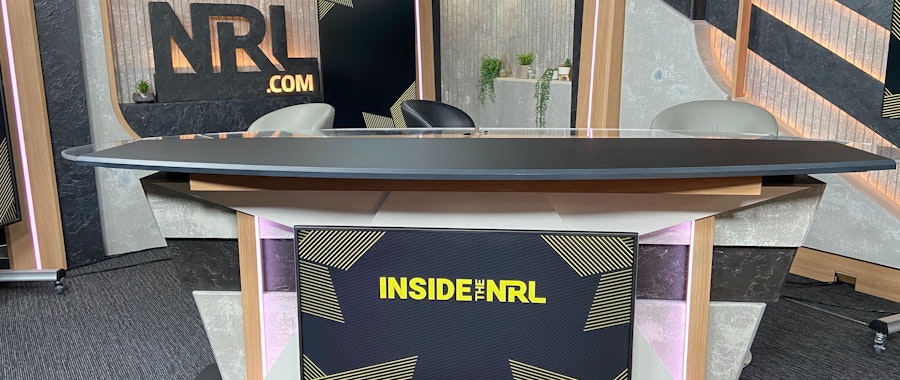 Made in Dropbox
•
May 28, 2021
From the pitch to the lockdown: Sharing the NRL around Australia
Imagine running a small team of a handful of people, with millions of diehard fans watching your every move and thousands of moving pieces ranging from video, to audio, interviews and more. The National Rugby League's media services team are living this reality day-in, day-out.
The NRL runs Australia's premier Rugby League competition comprising 16 teams - across the country the NRL Telstra Premiership attracts about three million people to its matches each year with more than 100 million viewers on television. This content goes out through a range of different stations to live television, streaming platforms, social accounts and highlights. Every game is its own moving puzzle with hundreds of pieces that all fit together to make that live match work each week.
While 2020 was a big work shift for those of us working in offices, for the sporting industry it was a massive overnight change that meant the NRL needed to find new ways to keep fans engaged, and keep the teams playing at their best. The NRL was also one of the first sports to return after the lockdowns in 2020 - a testament to the team's planning and adoption of technology to keep games rolling.
We spoke to Wayne Dakin, Media Services Manager at NRL to talk about how his team has overcome the challenge of sharing live sport around Australia and doing it live from the studio or remotely from home and everywhere in between.
We made it really simple, just one button from the editor and 15-20 minutes after a game or a press conference, that file would be available to 80+ people straight away...
Bringing the NRL into 2021
Wayne's team is used to overhauling the way that the NRL is played to thousands of fans around the country. When Wayne joined four years ago, the code was also most exclusively broadcasting on live television and like many other sporting codes, dabbling in social media here and there.
Wayne's first challenge when he joined was to set up the NRL with their own internal post production and live streaming facility to ensure that they could cut and send packages out to different TV networks quickly and easily, as well as working in the same formats as those stations.
"We came on board with a full editing service, pretty akin to a standard television broadcaster. 99 percent of our footage comes from terrestrial broadcasters, so we decided to map much of that to what the broadcasters are doing." This meant setting up a full edit suite at NRL headquarters that the team could use to edit and mix footage, to ensure it reached online and television audiences.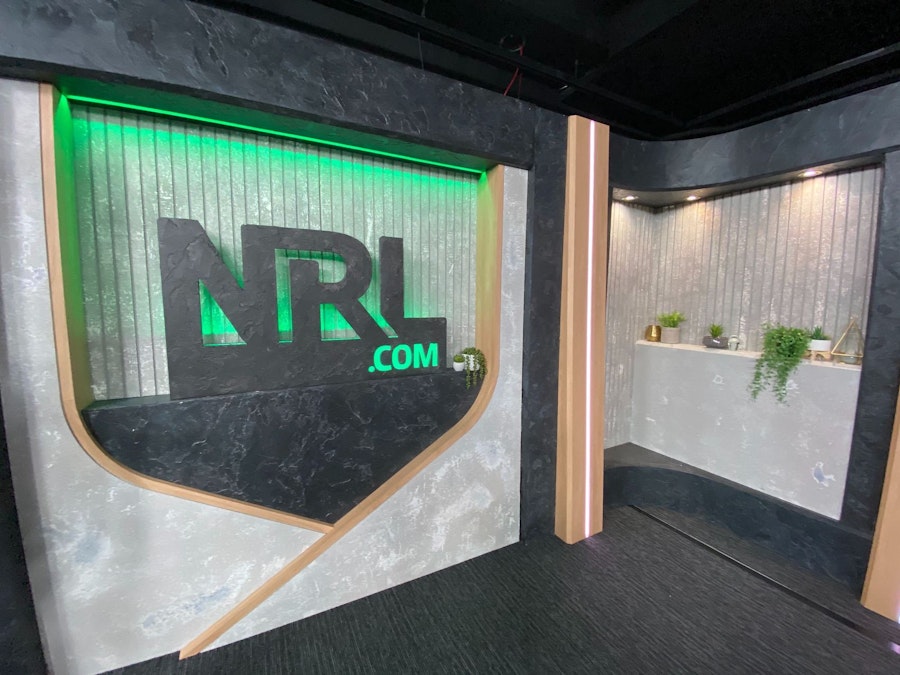 By building their own studio, Wayne's team has been able to send out live footage as well as audio and video to news outlets around the country within 10-15 minutes of the event. After setting up the production house, Wayne's next goal was to unify how the team shared their data, and build consistency in how they tackled content.
Wayne and the IT team, lead by Maurice Veliz, along with Quanah McBride and Patrick Young, evaluated and identified that members across the organisation were using Dropbox in their everyday work, but the team didn't have any control over it—they were using it as a tool to get work done, but Wayne and the team knew that they could get more out of it.
"Dropbox has been around for so long that it's become a part of the vernacular. It's easy enough to share a piece of content or say to someone 'just dropbox it', now we have different workspaces for different teams, but it's not locked into a server that we can control."
To support the hardware they'd developed, and gain better oversight of the data and security within the media team, Wayne and the IT team set out to unify the Dropbox users within the NRL, and build an environment to better share content.
This meant that in collaborating with the team within the same building, Wayne's team had one repository for all their editing software and footage, but when working with TV stations, they're able to quickly upload and share files.
Changing the game forever
In 2020, Wayne's team became more important to running the NRL's media output than ever before, as they suddenly needed to share content not just within the building, but out to remote workers while also developing new ways of working.
"Last year, we went from full-on mid-season to complete stop overnight. It was really weird." Overnight, many of the office workers needed to suddenly work from home as the state went into lockdown, and the games themselves were put on hold.
While games weren't able to be played, or were being played with no crowds, Wayne's team set about finding or creating content that could be played online, on social media and keep players engaged with the game while the pandemic ran its course.
"You can never recreate a live game, so once the game is finished, the only asset we have is that video file and that's how we monetise apart from the actual live game." At its very core, Wayne's team are looking at how they can take the live game and share it with as many people around the country and around the world as possible, on as many different platforms they can reach.
Beyond that simple act of redistributing, they're also looking at how they can take one asset—the recording—and repurpose it to get more use out of it. That means editing highlight reels, cutting interviews to overlay footage, creating replays and more, for their own use and for other televisors to use. Many of these processes are fully automated, transferring files ranging from 200mb to 4gb+ from the team's Avid systems, through their EVS and into Dropbox where they are shared with external teams.
It's this blend of technology and creativity that has been able to keep the team moving forward over the last year, as the games were first stalled, then put back on, then only televised, and now starting to see fans returning to stadiums - the constant has been Wayne and his team providing live and on-demand coverage to keep fans up to date.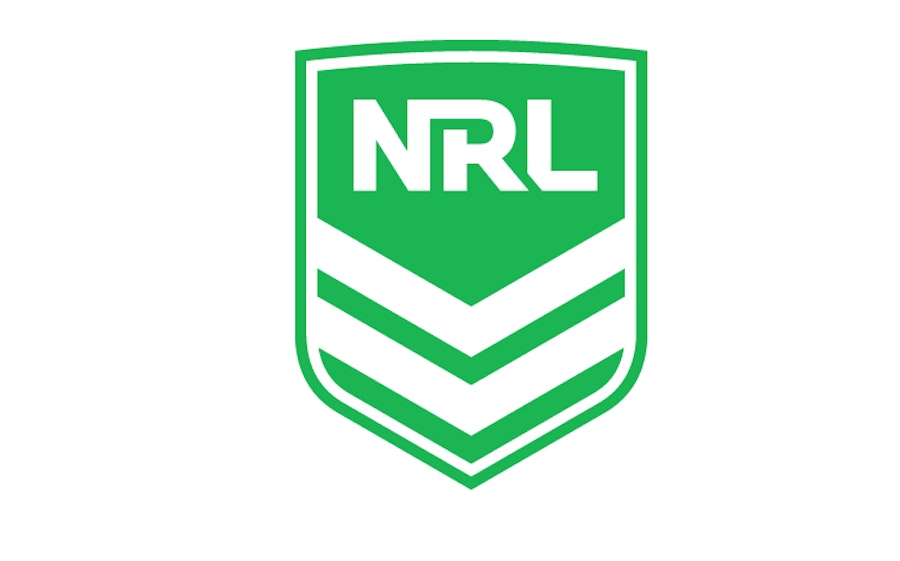 "All of a sudden, we couldn't have journalists at the game, we couldn't have people at our briefing meetings or doing interviews on the pitch - but they still needed that content. So we set up a global Dropbox folder and asked every man and his dog from every publication around the world for their email address, and made the folder read-only," said Wayne about sharing media with journalists globally.
"Then through Alex Agaciak, the other half of the department, he devised a new workflow that as soon as the editors were finished on their systems, the files would go straight into that Dropbox folder with a watermark, we'd also deliver an audio file for radio."
"We made it really simple, just one button from the editor and 15-20 minutes after a game or a press conference, that file would be available to 80+ people straight away," said Wayne.
Wayne believes that while some parts of the business might return to normal - live games will always have live fans - there are plenty of benefits to this new way of working.
One of the unexpected benefits has been is that running meetings and even doing interviews remotely has become more acceptable.
"We're getting access to coaches and players that we would normally have to bring them into the studio in front of the lights and camera, whereas I think COVID made doing it remote a lot easier and a lot more acceptable. People are more comfortable if you can save them an hour travel each way and do it remote, they can put on a nice shirt on but stand there in pyjama bottoms and look professional."
While these changes to the industry have kept the production team on their toes, Wayne believes that some of these benefits are for the better of the industry. That more people are able to join the games online, that the interviewers can connect with players all over the country, and that the teams are still able to play has meant that the game is able to reach more people than ever before.
While the landscape of sport has changed over the last year, the goal of the NRL as a business has always stayed the same—connect diehard fans with the game they love. Through smart technology and a good deal of ingenuity, Wayne and his team have kept the NRL on screens and in homes during one of the most disruptive years in business history.
...and we'll deliver fresh, inspiring news and updates on all things Dropbox and industry related. Just enter your email and you're good to go!