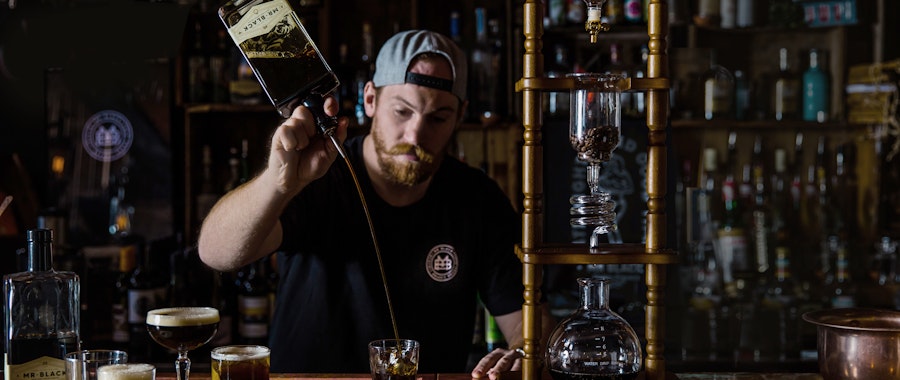 Work Culture
•
January 18, 2017
Mr Black Spirits: a neat shot of cost effectiveness
Tom Baker is only half joking when he describes his business as 'high octane'. He's the co-founder of Mr Black Spirits, a cold press coffee liqueur company that's providing coffee-loving drinkers in Australia and the UK with a premium quality caffeine fix.
Baker founded Mr Black Spirits in 2012 with co-founder and partner, distiller Philip Moore. Together they developed Mr Black Premium Coffee Liqueur, which has rapidly grown in popularity in Australia.
Internationally, the liqueur has won gold at the prestigious International Wine & Spirits Competition in London. Mr Black products are now successfully distributed in liquor stores and high end bars nationally across Australia and the UK with ambitious plans to expand their international operations.
The need for a high octane solution
Mr Black Spirits is organisationally, operationally, and geographically dispersed. With a distillery on the NSW Central Coast, offices in Sydney and London, sales staff and distributors across Australia and the UK, the business' management faced significant coordination challenges.
We talked with Baker to understand how Dropbox Business helped streamline Mr Black Spirits' IT operations and enabled employees and sales staff to work from anywhere, anytime.
A fluid response
Rapid consumer demand for its coffee liqueur placed early pressures on Mr Black Spirit's business to accommodate the growth that market demanded.
With no desktop computers and a constantly mobile workforce, Mr Black Spirits represents a new breed of business. "It's constantly fluid," Baker explains. "We made an early decision that the best way to accommodate our mobile operations was via the cloud. I travel seven months of the year, so we really are a company of nomads."
"We needed a holistic solution, one that was as fluid as we are, which helped us manage the spread of our operation. We chose Dropbox Business because it's cloud-based, affordable, and easy to use."
"Dropbox Business is central to our business. We use it both internally to collaborate and externally to share files with distributors and media while we're working remotely. I don't know how businesses operated effectively before cloud-based software like Dropbox," Baker added.
Cheers to collaboration
Given its rapid business growth, Mr Black Spirits faced an early challenge in coordinating its files. Not only do alcohol producers have to respond to many and varied regulatory requirements, they must also stay abreast of sales reports, design assets, cocktail recipes, media releases, designs, images, and more.
Baker notes, "With Dropbox Business, all these files, information, references and collateral is centralised. We know where everything is. We don't run around finding out who has the latest version or whose laptop it might be on. We all use Dropbox Business."
A party for third parties
Being central to the hospitality industry, Mr Black Spirits works directly and closely with a broad range of third parties. These include suppliers, consultants, advertisers, accountants and other external partners and collaborators.
"With Dropbox Business we can allow access, at various levels, to working documents we want to share with our business partners. This saves a lot of time as they can work directly with us without emailing files back and forward. Dropbox provides a range of permissions controls and we never have to worry about someone seeing something they shouldn't," Baker said.
The spirit of partnership
Mr Black Spirits also takes advantage of the easy integration afforded between Dropbox Business and other cloud-based services and partners. He says services like Xero and Slack worked flawlessly together with Dropbox Business.
"The bottom line is that the efficiencies from Dropbox Business work not only in improving collaboration and saving time, but also cost efficiency," Baker noted. "We save resources and money and we don't have to worry about servers and databases."
Cheers to that!
Find out how Mr Black Spirits and Dropbox are working together. Download the full case study here.
...and we'll deliver fresh, inspiring news and updates on all things Dropbox and industry related. Just enter your email and you're good to go!