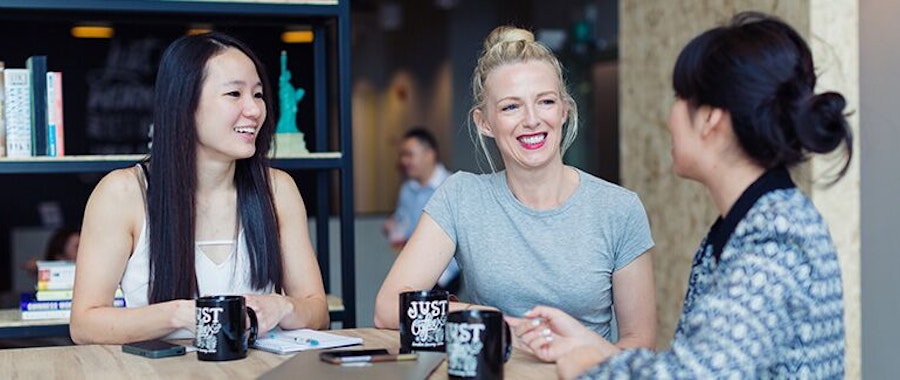 Work Culture
•
August 2, 2017
Life in the cloud(s): how JustCo transcended traditional office space
For a company like JustCo, space is everything. As a fast-growing business that fosters productive co-working environments, they know that people need to work from anywhere at anytime – whether at home, at an overseas HQ, or at the office – and this includes accessing files on the go. Enter Dropbox Business.
Launched in 2015, Singapore's JustCo aims to be more than a physical space for businesses and startups to occupy. Its founder and CEO Kong Wan Sing aims to kindle a culture of collaboration, sparking connections between businesses and partnerships that otherwise may never have happened. 
But this isn't to say the space itself isn't spectacular; pendant lights dangle above chic Scandinavian-style furnishings and custom neon signs emblazon inspiring maxims across exposed brick walls. Tiered theatres welcome presentations and seminars, and standup project spaces incubate the next big ideas.
"The space itself is laid out in a way that's conducive to discussion and ideation, which helps people collaborate better together," says Wan Sing.
We spoke to JustCo's founder about his ambitions, and how Dropbox Business has helped him stretch the notion of work inside the office walls. 
Space, expanded
Like many of its clients, JustCo has grown beyond a single location, and there's no sign of this expansion slowing down: the juggernaut has this year cemented its place as the largest co-working space in Singapore, recently opening its third co-working centre at UIC Building that's spread across 50,000 square feet, and acquiring 80,000 square feet in the CBD's glamorous new Marina One building. Dropbox Business became the solution to the inevitably unwieldy file management between physical spaces.
"As we grew, we started having problems with our data-storage system," he says. "From a user management perspective, we had a growing team and we needed more secure admin controls."
Moving from local to centralised storage had a profound impact on operations as the team continued to grow. "We have 70 people spread across eleven locations in Singapore and Asia and we're able to operate like we're all in the same location."
The customer is king
What differentiates JustCo from other co-working spaces is its culture of collaboration in cohabitation. Not contented to post up a client at a desk and let them get to work, Wan Sing provides clients with the tools and technologies they need to perform at their best.
"This philosophy of collaboration extends beyond the space itself," he says. "To the products we use and the services we provide our startups and entrepreneurs. We want to help these people to grow their businesses, [so we] give them tools, community, and connection that they need."
Beyond providing useful tools to his clients, Wan Sing finds the efficiency and presentation of the product essential to the way he does business. "We can share materials easily with external agencies. It's a better customer experience; if a file takes longer than five seconds to download, they're gone."
Nebulous, but always secure
Wan Sing appreciates floating freely between co-working spaces without worrying about accessing business files and their security. 
"A lot of people had used the free version of Dropbox, but my surprise with Dropbox Business was that the access I've been granted through mobile devices. Being able to access sensitive files remotely from a laptop makes everything so easy," he says. "I didn't have to worry about going back to the office; this in itself shows the strength of the security of the product."
It has also improved handling both on-boarding and the departure of employees. "When employees leave the company it's easy for our IT and HR teams to take the sensitive information that they have in their possession back. It's so easy to roll back files, and company data is safe."
Free from the traditional four-walled office, JustCo is destined for the stratosphere. Thanks to Dropbox Business, that expansion is all the more boundless.
Find out more about how JustCo and Dropbox are working together. Download our case study. 
...and we'll deliver fresh, inspiring news and updates on all things Dropbox and industry related. Just enter your email and you're good to go!