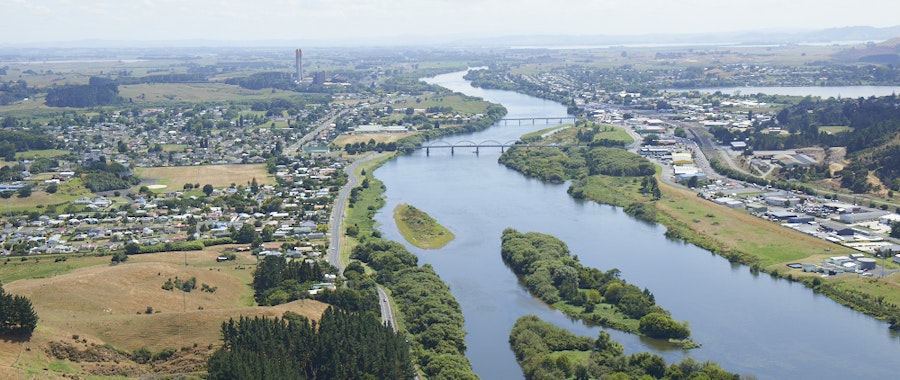 Made in Dropbox
•
May 1, 2019
The Land of the Cloud
Rolling out Dropbox Business for Waikato District Council.
New Zealand has long had a reputation for creating forward-thinking companies like Xero and the early adoption of new technologies like EFTPOS in the 80s and more recently has been the favoured test market for innovations like Pokemon GO, Google Loon and new Facebook features.
Now, Waikato District Council is leading the way in the roll out of collaboration technology in the government sector. It oversees one of the fastest-growing areas in New Zealand: responsible for housing development, roads, water, waste and storm water, maintenance, parks and reserves. To handle these duties effectively, it turned to Dropbox Business.
The Challenge
Running a district requires significant amounts of information organisation, storage, and sharing. Mark Willcock, Chief Information Officer at the Council, says "we're a progressive Council and we're embracing cloud technology. Our roadmap is innovative and ambitious."
The Council needed to quickly test how implementing a cloud solution would work by answering several key questions:
How easy would it be to install?
Would the intended users actually use it?
How much would it improve workflow efficiency, transparency, security, and cost, and how would those benefits be measured?
The Council had several processes that were candidates for testing implementation. The most pressing was the distribution of meeting agendas to councillors by the Committee Team. Previously, the committee had to print, package, and mail physical copies of the agenda to the councillors to arrive 48 hours before the meeting. However that process took the better part of a day to finish and did not guarantee that councillors got the agenda on time. "If councillors hadn't received the agenda before meetings, there was a bit of an outcry", said Rose Gray, Democracy Manager.
Implementing Dropbox Business
The installation process was relatively easy due to staff already having experience with Dropbox. "The familiarity that staff have with the tool means that from a roll-out standpoint, we're able to have Dropbox champions within each team", said Gene Oudes, Infrastructure and Support Lead. "It means that overall, the organisation has been able to understand the technology faster." Even councillors that hadn't already used Dropbox were able to start using the app due to its intuitive nature.
Instead of physically posting agendas, the Committee Team now uploads them to Dropbox as soon as they're finished, and the councillors can view them and annotate using their iPads and phones. The process is also more flexible. According to Rose Gray, "If we're waiting on a late report, we can just upload it straight into Dropbox for councillors to review straight away."
Since the new process has been implemented, the distribution of agendas now takes 10 minutes, instead of a day. The Council is saving on courier and postage costs, and the entire Leadership Team is now using Dropbox Business.
Results
After the success of the roll-out of Dropbox Business with the leadership team, the council has expanded its use to:
The Building Consent Team, which use it to share and collaborate on large building plans, application forms, and supporting materials with developers and companies.
The Communications Department, which now "has access to image assets from their photo library from any device, anywhere that they want. They can easily share these images internally and externally when the team needs to work with external marketing agencies," says Willcock.
The Water Department, which has used Dropbox to streamline how field technicians send data, including photos and reports, by uploading photos of pipes and treatment plants straight from their phones and into Dropbox.
The next stage is to roll out Dropbox Business to workers in the Animal Control Department, where they can upload video and photo evidence directly to Dropbox. The Helpdesk Support team will also use the integrations with Slack and Trello to seamlessly link supporting documents straight into Dropbox. Waikato District Council has ambitious plans for Dropbox and eventually would like to use Dropbox to replace legacy systems, like file servers. "We'd like to migrate file storage to the cloud. We're looking at transferring older files from our file server into Dropbox. The idea is we would eventually migrate all of that data into Dropbox", says Willcock.
You wouldn't expect anything less than a successful adoption from New Zealand. It seems to come with the territory.
...and we'll deliver fresh, inspiring news and updates on all things Dropbox and industry related. Just enter your email and you're good to go!