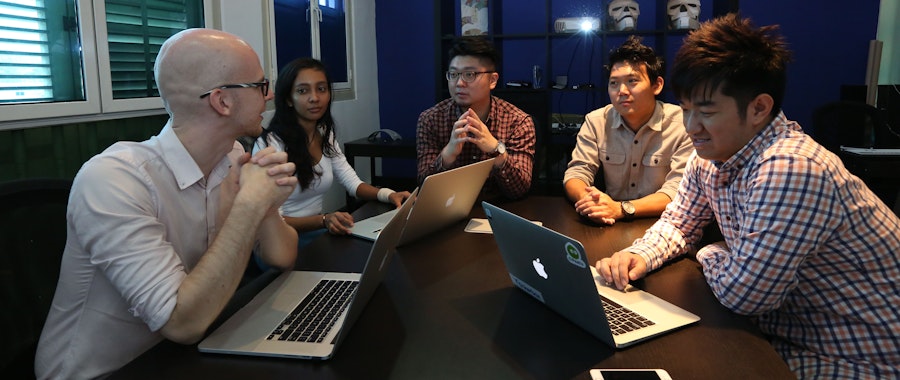 Work Culture
•
February 24, 2017
Innovation by Tinkerbox, fuelled by Dropbox Business
For Singapore-based design and development studio Tinkerbox, efficient project management is the key to success. Here is how Tinkerbox has streamlined the creation of innovative technological solutions for clients using Dropbox Business.
Tinkerbox Studios is a hotbed of innovation. Specialising in creating solutions for clients with a focus on sustainable code, the team's approach provides guidance and support for clients all the way through, from briefing to delivery.
Many heads make heavy work
Bringing an idea to life is no easy task - the process requires a range of specialists, and for different team members to dip into the project at various stages of the project's lifetime. This created an issue of managing the different work streams, and files saved locally.
As  Kelvin  Tham, COO and Co-founder of Tinkerbox explains, "Before Dropbox Business, we had ongoing project management issues. Every team member had a personal Dropbox account so we didn't have visibility or control over our company files and the storage restrictions quickly became problematic." 
Keeping projects moving
Tham and the team decided to implement Dropbox Business as a way to keep different work streams in sync. Dropbox Business gave the 25-strong team the opportunity to have one central resource for all files where team members can access the latest information easily.
As Tham explains, "We knew as soon as it came out that Dropbox Business was the solution that we needed. We can now work on end-to-end projects seamlessly and with a greater amount of visibility over workflows. I don't have to constantly worry about where a particular file is stored."
Collaboration tools, like Dropbox Paper, also help keep the Tinkerbox team on track.
"We use Dropbox Paper for recording agenda items and minutes during our meetings. Additionally, it also allows us to easily assign tasks to relevant team members on the spot," says Tham.
Top secret innovations
Dealing with highly confidential and bespoke app and software builds, Tinkerbox needs to be watertight. As well as the general project management assistance that Dropbox Business has provided Tinkerbox, it has also provided the necessary range of access levels to the team.
"With Dropbox Business we can easily designate granular levels of access to team members. We store employment contracts, admin files, and other sensitive company information in Dropbox Business and we know that only the right people have access to these files." Tham  says. This means that any confidential or sensitive information can be confined to certain individuals. 
Find out more about how Tinkerbox and Dropbox work together. Read the full case study here. 
...and we'll deliver fresh, inspiring news and updates on all things Dropbox and industry related. Just enter your email and you're good to go!