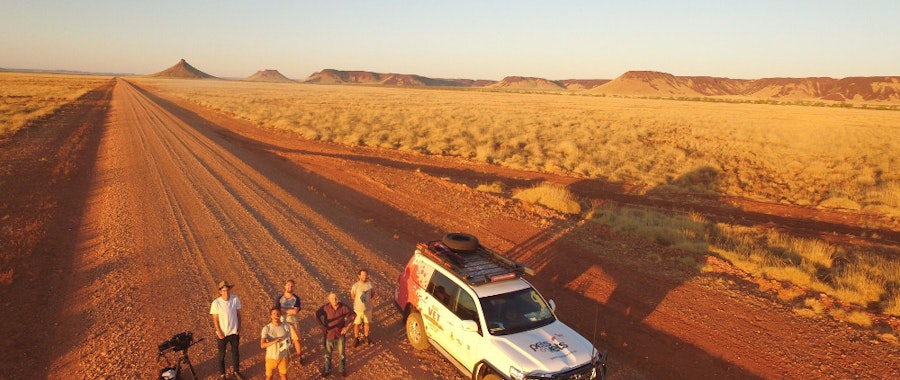 Work Culture
•
December 14, 2017
How Projucer is redefining branded content
Sydney-based video agency Projucer is leading a content revolution. Flipping traditional filmmaking on its head, their team of adventurers are 'un-making' TV, with a rapid-fire approach for the social generation.
Whether it be a food and travel series for SBS Food hosted by Masterchef winner Andy Allen, a Channel 7 pilot following a vet in remote Western Australia or an international travel series with Top Deck, their approach brings together the disparate worlds of television and digital channels (with some big-brand assistance) to get the best from both.
Here, Co-Founder and Director Josh Capelin shares a few of his golden rules for how brands and producers can band together to do something a little different (and entertain in the process). 
When it comes to content, think different. 
I remember filming Andy & Ben Eat Australia, on our first TV production for SBS. Andy (Allen) and Ben (Milbourne) were making mistakes on their lines, we were making mistakes with filming… stuff you would normally fix in post-production.
But in the editing suite we said, "nup, we're going to show the mistakes, we're going to show the cameras, we're doing to show the jump-cuts, because why not?". We didn't know any other way – why not have some fun, make it quick, and take what we know works in digital and put it on TV.
This approach started with Eat Australia but is spreading into other projects. We just shot a pilot for a show called 'Desert Vet', and our Director of Photography wrote a style guide that emphasised that we're playing in this interesting world of wanting to be different, but we know they love conventional TV too, so our job is to find the fine line in between.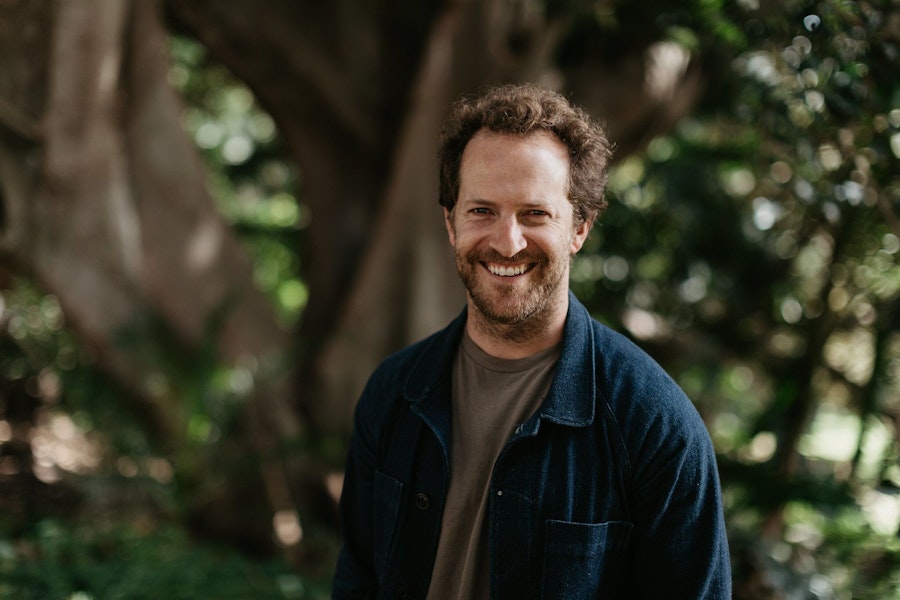 Shoot once, cut twice
This is a corny line, but it's something we really try and drill into our clients and brand partners. There are so many channels these days, knowing exactly what works for those channels is important. You can't just shoot something and expect it to work across all of them because that's not how content is consumed these days. We have what we know our brand partners need, so when we're shooting on location we're saying, "here's the TV thing, here's the social media thing, and let's just shoot this while we're here because we won't have that opportunity again".
For example, on Eat Australia Season 2 we'll be on location shooting the series, but we'll also shoot a 50 frame-per-second shot of Andy destroying every dish he creates because we know it'll have good social currency. Young people might not want to watch a three-minute recipe on social media, but they'll watch a video of Andy throwing a dish at a wall.
It's also really interesting watching that evolution, because it happened really quickly – it went from one video across everything to just uploading to YouTube, then to native video on Facebook, 30-second video for Instagram, 10 seconds for Snapchat and so on. We find ourselves doing a lot more TV, but not wanting to lose digital and wanting to play in both as this landscape just changes all around us.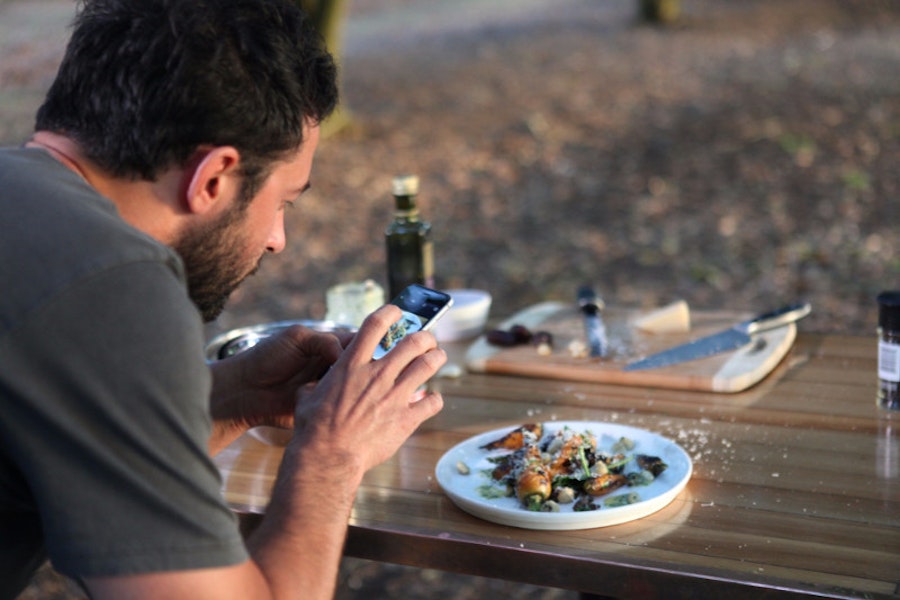 Make the brand the star (by removing them from the picture)
When it comes to brand involvement, we always aim for subtle and authentic. So many clients are new to brand financing and are afraid to dip their toe in the water. Our approach is that the less of the brand there is, the more the viewer will dig it because the minute you try and go for something forced the viewer will switch off.
There are two ways to do this well. We've flirted with the Wayne's World approach where the host says "Hey, I've got a few brands on this journey with me because A) I need a car to drive, B) I need these ingredients, etc.)". We can address it right up front, or you can integrate it more subtly, put the logo on the end-credits with some subtle product placement in-between."
For a fairly minimal investment, the value for brands is huge – you get exposure on TV, exposure online, plus the tangible and intangible reach of our talent through things like social media (see the point on shoot once, cut twice). It's our challenge to communicate that vision to the client.
It's a multi-skilled job, so hire multi-skilled people
Being a producer is great because it's so diverse, and relies on having good people skills, good relationships skills, commercial understanding, some sales knowledge, and you can be really creative as well. Business development is a huge part of our business because there is so much cold-calling and emailing involved, and it's essentially a nine-month process if a deal is going to come through. Then once these shows come off, we need to have what we call Creative Producers with logistics and scheduling skills, but also creative skills so they could semi-direct a show too. It's really a role that suits a multi-tasker and someone that wants to be doing lots of things at once.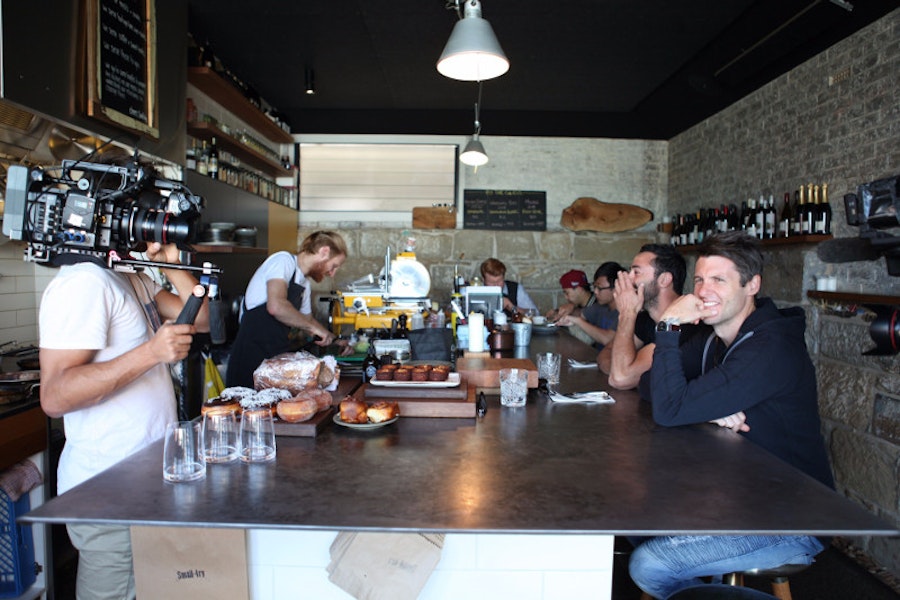 When it comes to shoots, use the cloud to your advantage
Our model is quite reactive, where we bulk our production requirements up and down for every project. But we use a number of sharing platforms like Dropbox so we can shoot on location and finalise episodes or projects in our editing suite simultaneously. For example, Eat Australia was shot in two blocks, so editing was underway on the first block while we were shooting the second. For Desert Vet, we had a crew based in clinics in remote Western Australia for six weeks, and footage has gone to the editing suite in that time. These services have streamlined and saved so much paper in the editing process – it's amazing how much you can get done on the road using technology, like Dropbox.
...and we'll deliver fresh, inspiring news and updates on all things Dropbox and industry related. Just enter your email and you're good to go!