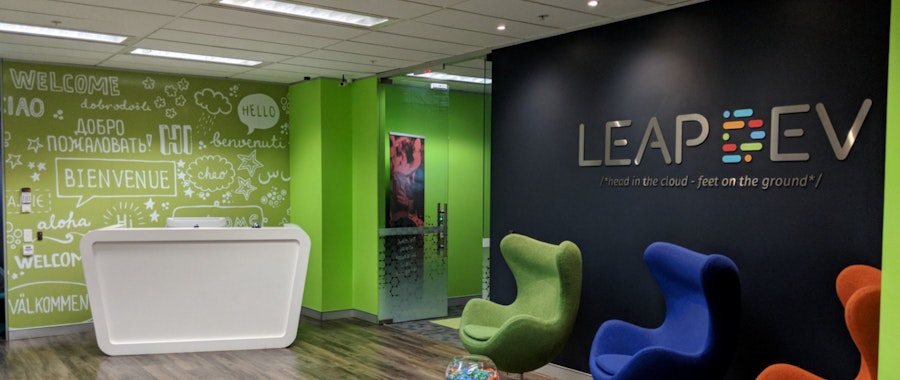 Work Culture
•
March 5, 2018
How LEAP encourages flexible working with new technology
In the lead up to Salesforce World Tour, we sat down with Gavin Smith from LEAP, a cloud-based practice management software, to talk about how he's used new technology to encourage a flexible working culture.
Can you tell us a little bit about LEAP and your role there?
LEAP is the number one legal software provider for small law firms, and the biggest independent legal software company in the world, with over 13,000 clients in Australia, the United Kingdom and North Eastern United States. I'm the Information Security Manager and I'm responsible for security and IT systems. As part of that, I lead the Information Systems team and I'm responsible for supporting internal IT systems and the LEAP Cloud product globally. Our team is based in Sydney with offices around the world including London and New York.
Dropbox is passionate about helping teams unleash their creativity, how are you helping your team feel more productive and creative in their everyday roles?
We encourage our team to work the way that they want. At LEAP, we believe in individual flexibility, so remote working is encouraged. As well as promoting flexible working, we recently redesigned our physical space to foster closer collaborations between development teams by changing to an open plan layout. This includes breakout areas for relaxed brainstorming sessions, and even a games room to help our team recharge.
What are the key technology trends that you're seeing in your industry? What are users and employees asking for?
One of the key trends that we're noticing is more and more companies are migrating to Software as a Service (SaaS) solutions for applications that previously would have been kept in-house. The biggest advantage of SaaS solutions is that there is no need for in-house infrastructure to support applications, and no hassle associated with installing and upgrading software.  SaaS solutions are also flexible, which makes rapid scaling easier, and cheaper for businesses. Employees are seeking faster solutions to their problems, often by using a SaaS solution or going straight to the cloud.
You've been a Dropbox and Salesforce customer for 3 and a half years now, can you tell us about the environment before you implemented Dropbox and Salesforce?
Before implementing Dropbox, we used our own file servers based in each office. Sharing files and collaborating on projects with staff in remote offices was quite difficult. There was also a significant administrative overhead to managing the file server permissions and access, and we didn't want to be held back by legacy solutions running on servers in our own offices. After deploying Dropbox, we were able to allow our users to manage their own document sharing without any intervention from IT, so our staff became much more self-sufficient. Also, features like Team Folders, Smart Sync, and Single Sign-on have made us more productive as a team.
What are some of the benefits of using Dropbox and Salesforce together?
We chose Dropbox and Salesforce because we wanted to move to cloud-based solutions that would scale with our enterprise on a global scale. We use the Dropbox and Salesforce integration to allow team members to access their Dropbox files directly from Salesforce. Since we've implemented Dropbox Business, there are very few IT support requests for Dropbox issues, and the support overhead for file servers has completely disappeared.
The Dropbox team will be at Salesforce World Tour in Sydney on Tuesday, 6 March. If you're not attending, don't worry. Just reach out to our team and we'll get in touch to show you what Dropbox Business can do for your and your team.
Find out more about how Dropbox Business and LEAP work together.
All images supplied by LEAP.
...and we'll deliver fresh, inspiring news and updates on all things Dropbox and industry related. Just enter your email and you're good to go!