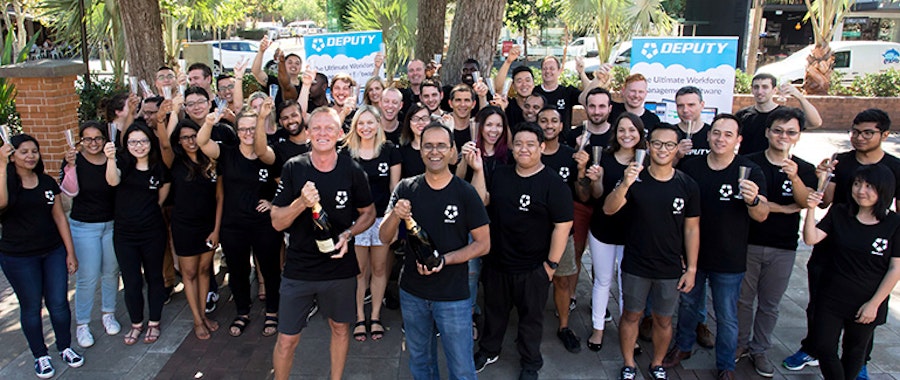 Work Culture
•
June 21, 2017
How Deputy keeps its international team in sync
Deputy is an online workforce and employee management system that enables businesses to easily manage employee scheduling, time, attendance, and communication.
The company started in Australia, but it has rapidly expanded its global operations after a successful $25 million USD round of Series A funding from OpenView. With additional offices now in the US, UK, and Philippines, the international team use Dropbox Business to centrally store, share, and collaborate.
A growing team, more efficient collaboration
Kristin Harris, General Manager of Strategic Partnerships at Deputy, has been with the company from the very beginning and has seen the product gain massive traction in retail, hospitality, and service based industries. The company's unique focus on providing a user-first, mobile experience means that brands like Qantas, Thrifty, and Gelato Messina were quick to jump on board the staff management software.
With rapid growth comes operational challenges. In the early days, when the team was small and focused on developing its product offering, staff stored documents locally and used email to collaborate on files.
"We quickly realised we needed a centralised file storage system in place," explains Kristin. "Using emails to collaborate initially wasn't efficient and we wanted a better way."
As a fast-growing business, Deputy needed a more effective way to store and share information. "We were looking at streamlining the process," says Kristin. "We wanted one place for everyone to access materials wherever they were."
It didn't take long before Deputy moved over to Dropbox Business. "Dropbox was an obvious choice for us. We never really looked at anyone else or thought that we needed to. Several of the staff were familiar with Dropbox from a personal use case, which made it a simple decision to use it from a company perspective" Kristin explains.
The transition to Dropbox Business was absolutely straightforward. "We are 100% cloud as a company so it was a really simple roll-out. Everyone took to it and understood how to use it." Deputy doesn't even need to have a file server because the international team is able to access information easily from the cloud.
A central place for all teams
Deputy has a mix of teams made up of varied roles. There's designers, developers, system engineers, sales and partner teams. Along with support and customer experience teams, administrations and finance teams. Since switching to Dropbox Business, it's made working easier for everyone. Kristen explains, "We're a mobile team and people often work from home or are travelling. They need to be connected to their work, it's a perfect fit for that."
Deputy's design team love Dropbox as it's a place where they can easily store iterations of their designs. While the finance team finds it an invaluable tool too. "The finance team use Dropbox to collaborate on financial reports," says Kristen.
Having Dropbox Business in place also meant the team could grow quickly and roll out operations to the global team, making processes more efficient as all teams were able to access the information they need right away. "If we were having to email documents to each other we'd lose time and potentially be using dated information," says Kristin.
"Using Dropbox Business is easy for everyone. As a company we don't have to think about the maintenance associated with other offline storage methods, it's the way that it should be."
...and we'll deliver fresh, inspiring news and updates on all things Dropbox and industry related. Just enter your email and you're good to go!