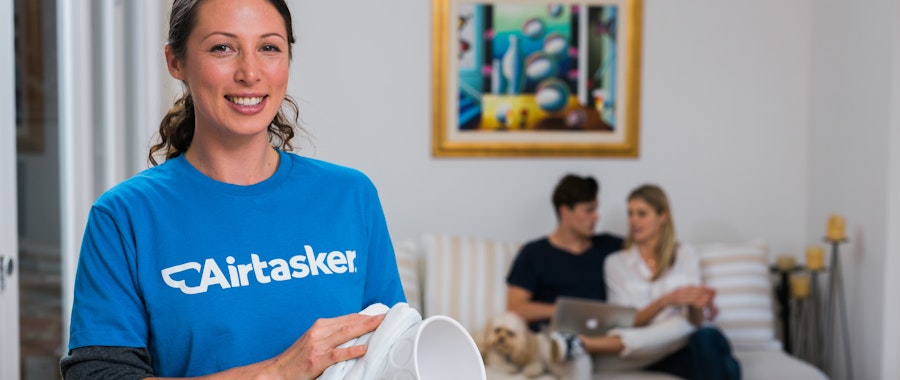 Work Culture
•
January 23, 2017
Helping Airtasker keep things in order with Dropbox Business
Here's how Airtasker is using Dropbox Business to keep files secure when collaborating with investors and consultants.
Airtasker is an online marketplace that connects people with odd jobs that need doing and those who can do them. As one of the first startups servicing the then-emergent 'sharing economy', investors jumped on board and Airtasker grew overnight from a team of two to a team of 45 in Australia and an overload team based in Manilla.
This growth left Airtasker in a mess when it came to file storage, with files spread out across a mix of external hard drives, email, and personal Dropbox accounts. Add to that the requirement for due diligence rooms to share confidential information with investors, the need for a secure, reliable way to work together came to the fore.
With Dropbox a favourite with employees already, the team settled on Dropbox Business. We talked with COO and Co-founder of Airtasker, Jonathan Lui, to find out how Dropbox Business has helped keep their house in order.
Granular control
"Dropbox Business is a very straightforward product," Jonathan says, describing the transition from the basic Dropbox account to Dropbox Business, "We section it off into departments, so that each department can control the file structure in their particular area."
Control is a real sticking point for Jonathan – with investors to please and files to keep safe, granular file permissions and file tracking is a lifesaver for Airtasker. "We make sure employees get access to the right files at the right time," Jonathan explains, "As employees leave the business, it's very important for us to remove access to sensitive files."
A good example of how all these features came together for Airtasker was during the application process for a research and development grant from the government. "Going through the submission we worked with external consultants. We had a lot of people working together on the one document," Jonathan explains, "Every time there was an update we could see who was editing the files. It's all tracked so if we ever need to go back and look at what we've done, everything is there."
Tidier collaboration
Besides file tracking, Jonathan calls out the benefit that Dropbox has made to team collaboration. "When we first started out, our design team was working on incredibly large files that they passed from person to person on an external hard-drive, meaning that only one person could work on them at a time. Moving to Dropbox Business has totally freed up our designers, making our team more efficient," says Jonathan.
Having a central hub for all files has sped up workflows. "We don't have to worry about where files are stored anymore," Jonathan notes, "Moving to Dropbox Business really opened up team collaboration for us."
Constant improvements
In Jonathan's eyes, the price to pay for this security and boost to productivity is well worth it. Jonathan sees cloud-based services as the way forward. "The advantage of the cloud is all about productivity and the constant product improvements that are passed on to customers. Dropbox Business is constantly improving and therefore customers keep benefiting."
Whether it's security, collaboration, or productivity, it's all in a day's work for Dropbox Business.
Find out how Airtasker and Dropbox are working together. Download the full case study here.
...and we'll deliver fresh, inspiring news and updates on all things Dropbox and industry related. Just enter your email and you're good to go!