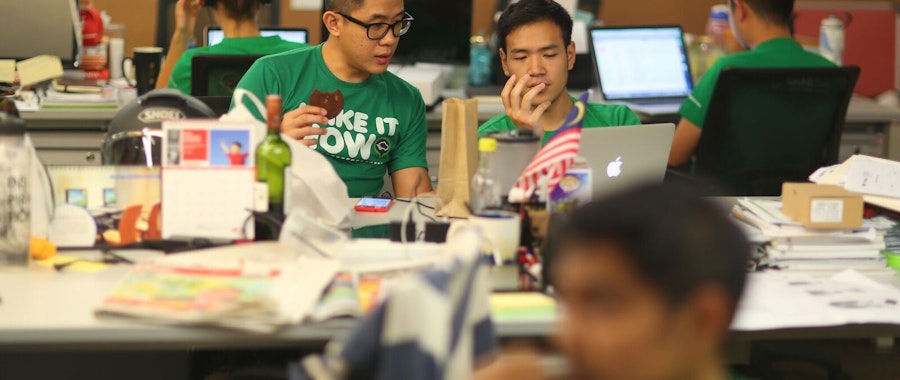 Work Culture
•
April 6, 2016
Grab is using Dropbox Business to support collaboration
Grab is one of South East Asia's only home grown, billion-dollar companies. Since its launch in 2012, the business has grown to accommodate 10 bookings per second throughout Malaysia, Singapore, Thailand, Jakarta, the Philippines, and Vietnam.
One of the key elements contributing to the growth of the business has been effective communication and marketing across the regions it serves.
However, employees at the company did not always have such an easy time when it came to communication and collaboration. The original processes were fragmented across different solutions, security was a concern, and file versions were difficult to control.
As more of the company's own employees began to use Dropbox as a tool to combat these less than desirable systems, it became clear to Grab that Dropbox Business could solve some of the troubles the company was having.
"If you've used Dropbox, you know how easy it is to figure out," said Benety Liew, Grab Chief of Staff. "So there was no resistance to setting up Dropbox Business within the company."
Dropbox now allows Grab teams, especially the mobile ones, to collaborate with local brands and marketing agencies, helping to facilitate Grab's continued growth. Previous issues that existed around version control and file size limits have disappeared.
"Our marketers are constantly sharing large media files with external partners, and so it's helpful to not have to worry about size restrictions," said Kevin Lee, VP of Data and Growth at Grab.
"Dropbox Business has really helped reduce sharing friction, while enhancing our level of security."
While Grab always had concerns about the security of shared content, the use of multiple systems in the past made it extraordinarily hard to enforce these measures. Now, with Dropbox Business, these concerns are non-existent.
"It used to be that if I sent a file via email, I'd have no control over the data after it left my hands," said Lee. "But now I can decide who can view it and who can edit it, and set those access limits."
In addition to Grab using Dropbox Business as a daily work tool, the company has also set up a $100 million R&D Centre in Singapore as part of its commitment to innovation and growth. The researchers at this facility also rely on Dropbox Business to share and store their data.
It is just one more example of how the Dropbox Business product can be used.
On why the product is so important to Grab, Lee sums it up best.
"There will always be bottlenecks to growth," he said. "But tools like Dropbox Business help us eliminate those and make processes more efficient so we can scale our business faster."
Find out more about how Grab and Dropbox are working together. Download the full case study here.
Want to know who's using Dropbox in your business? Request a free Dropbox usage assessment or start a free trial today.
...and we'll deliver fresh, inspiring news and updates on all things Dropbox and industry related. Just enter your email and you're good to go!