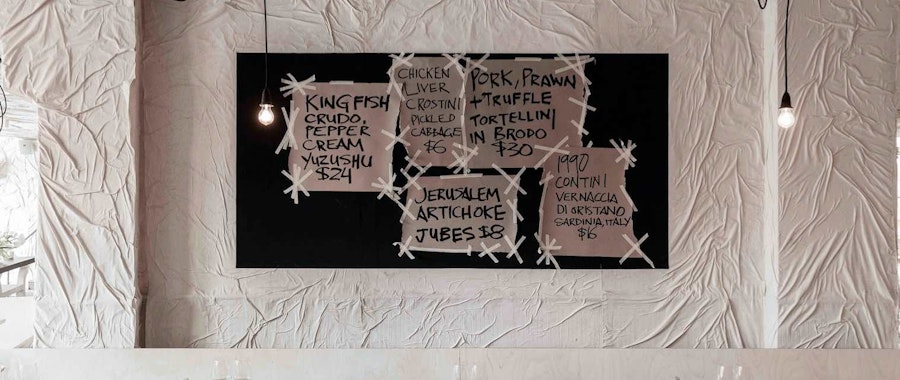 Work Culture
•
March 5, 2018
George Livissianis Doesn't Want an Empire
If you've eaten a fine meal, drank a cocktail or shopped in Sydney in the last ten years, it's likely that George Livissianis has had something to say about it. 
A quiet achiever in Sydney's design elite, the interior architect has for years set the standard by which style is measured in Australia and abroad. From Sydney dining institutions The Apollo and Cho Cho San to chic newcomers The Dolphin Hotel and Chin Chin, not to mention retail stores for Jac + Jack, and Bec & Bridge — his timeless portfolio is a testament to the longevity of his clients. Over coffee in his relaxed Paddington studio, he tells us why. 
Looking back over the last few years, how has your design practice evolved?
In the last five years we became a little more popular in the hospitality arena. More of our work was centred on restaurants and bars but I'm trying to level that out because I like to have a balance between retail, residential and hospitality. Otherwise, the studio becomes too known for one thing and I like the creative freedom that comes with being able to do anything.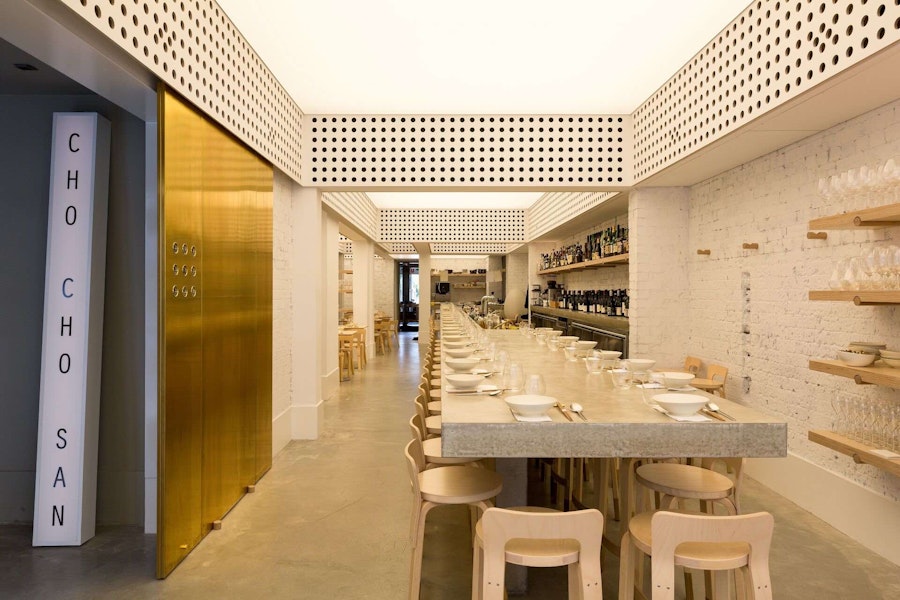 Has the studio grown in that time? 
It's always been around 3-4 people plus myself and I think that's where it will always sit. [A small studio] allows me creative control of the process and to be involved in every meeting. I never wanted an empire because the most comfortable position for me is behind my drawing board. That's where I'm at peace.
How are projects structured between yourself and the team? 
My role is to oversee the creative direction, as well as the design process and client management. The studio team manage the daily activity of projects from client management to drawing, production, design, refinement of detail, organising prototypes and samples — all the things that bring the work together. I think it's a great position for them because they're not delegated one task of a project, as they might in a larger studio. They see things from beginning to end. For example, I like to take my teams to every site meeting because it's for their knowledge and growth to see how things are built and crafted. Without that, you're just sitting, drawing in a room. 
Are there any foundational principles of the studio guiding the team? 
It hasn't got that formality. I'm always driving the creative direction but I'll always have open table conversations with everyone to get their ideas. 
I love strictly minimal things, but you can't get away with that all the time. In a lot of projects we're quite recessive because I don't want our design to take over the purpose of the project, which might be food or drink service, or product-based if its retail. So minimal, simple, clean, beautifully crafted, finely-detailed and unpretentious, because you can use very simple materials and make them beautiful. Things don't always have to be gold-cladded.
You're well known for using clean, naturally occurring materials. How do you innovate with such a timeless approach? 
I'm very aware that if we create a brand for a client (like a restaurant or retail space) the material palette is a very sacred thing for that project. I'll never take that elsewhere because we've invested a lot in that brand, and a lot of it is based on materials. 
I really like exploring what can be done with chosen materials. The Dolphin Hotel was an interesting experiment with fabric, and in Bondi Beach Public Bar we played with spray-on concrete, plus different textures of concrete and greys. Even for Jac + Jack, the way we used plywood, joinery and negative detail was all an exploration. That experimentation with textures and materials is really important and I think that's true across all our projects. 
You've mentioned that you don't have a specific 'process' but are there some standard questions you ask of all your clients from the outset? 
They're not rigid but they're specific to making sure we'll work well together. Being a small studio allows me to ensure every project is highly creative so our whole team are excited about it — passionate, even. But we're looking for a really strong brief with clients that have a great awareness of what they're trying to do. It needs to be very focused, have a great site and a lot of creative scope for us. So clients that have the trust to say 'this is what I'd like to do and your role is to deliver that as an interior'. It's quite exceptional for people like Jonathan Barthelmess (The Apollo) or Maurice Terzini (The Dolphin) or Chris Lucas (Chin Chin), they've given us a freedom which is very important. We had a really great experience with Bec + Bridge where we broke down their brand and re-built it in this space. I needed to do that because female fashion is quite foreign to me, so I need to go through a process to capture the DNA of what they can be.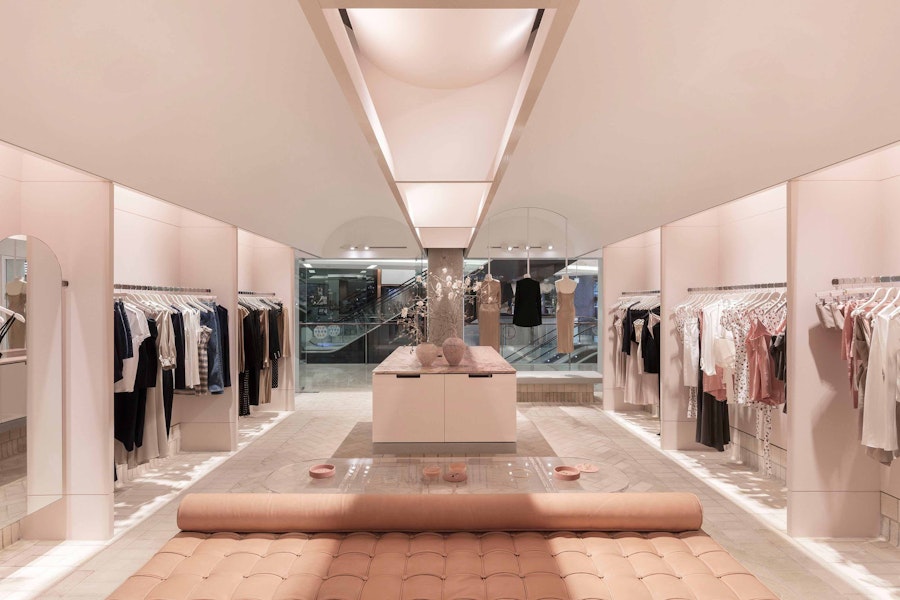 There's something to be said for the form vs. function debate between residential, retail and hospitality spaces. Does your approach change between these? 
It's always the same and it starts with planning. I can't put enough emphasis on planning and how important it is to the final outcome. When I'm planning I'm getting a feel for the space, getting the flow and function and visualising it as a space — that all happens at the planning level.
It's always function-based and no matter what we do, I'm always looking at the client as a brand. Even for residential projects, I see the client as a brand where I'm trying to pull out their personality to make our projects better. I don't see the point in doing interiors or architecture that's about the architect. It's very unusual to me. I can appreciate good architecture, but I can't appreciate things that don't work.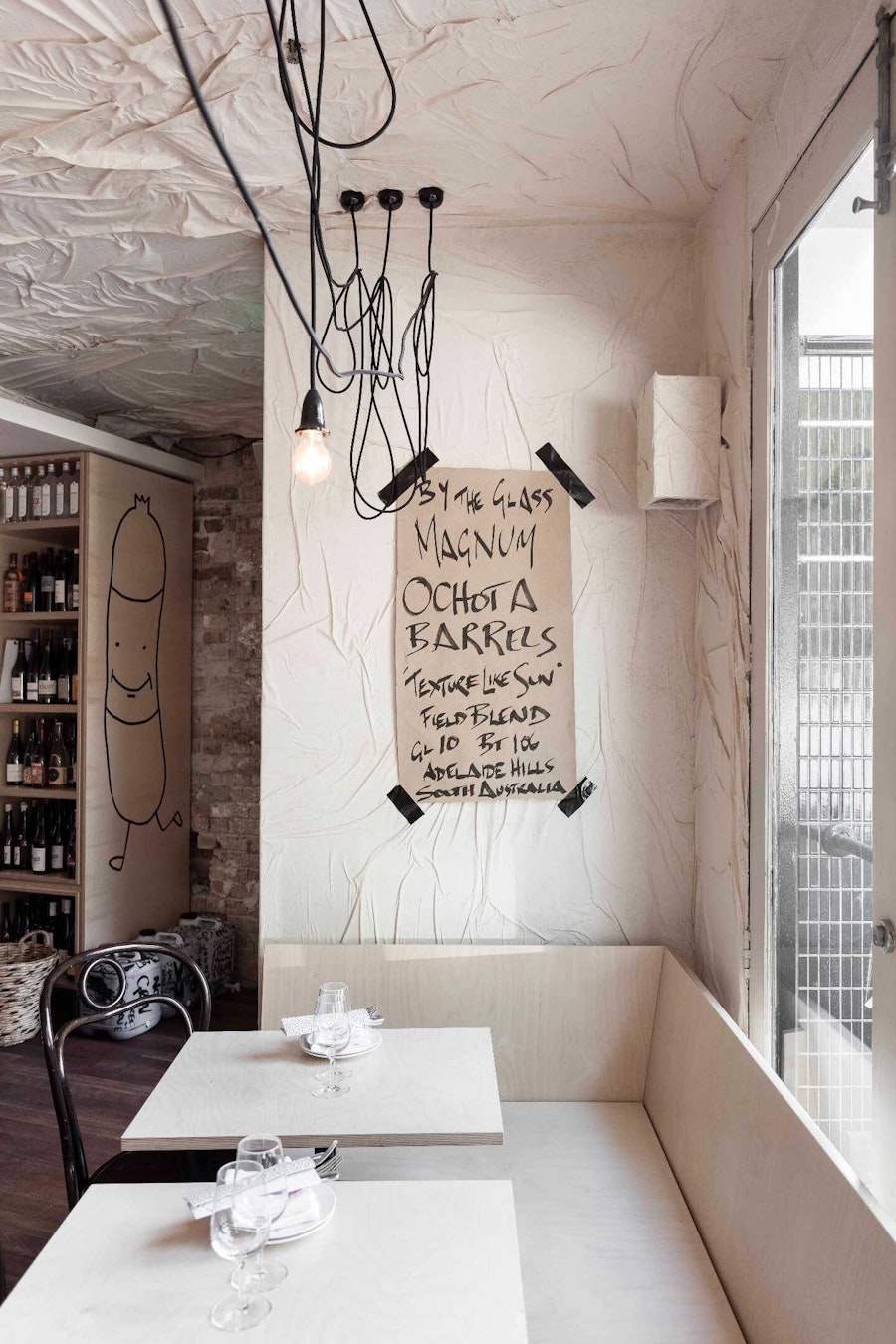 Files and plans are so vital in this process, how does Dropbox play a role in what you do?
As the computer software we use becomes more sophisticated, our files just explode in size. Back when I first started out, instead of digital drawing packages we had to photocopy our drawings into A1 sized pages and take them to sites in giant tubes. We spend a lot of time on-site to nurture projects as they're being built and there's a lot of drawing information we need to review. 
Take Bondi Beach Public Bar, for example. We had over 100 drawings and it's very difficult to go through all hard copies when you need to make decisions quickly, so you need a digital drawing as a reference and a tool. We find Dropbox is a very good way of doing that. In terms of information sharing, when we're sitting up a project we'll send a Dropbox link over to the client at the beginning so we're using it both ways — they're welcome to drop reference images in there, and we'll send concept presentations, which is good because the file sizes are far too big for email.
As the project develops and we start looking at construction drawings, we'll start issuing tenders using Dropbox too. The main advantage is that being on site with digital copies, it's easier to work that way for builders too. A few years ago builders weren't typically so digitally savvy, but now they're pretty good at finding information without having to ask.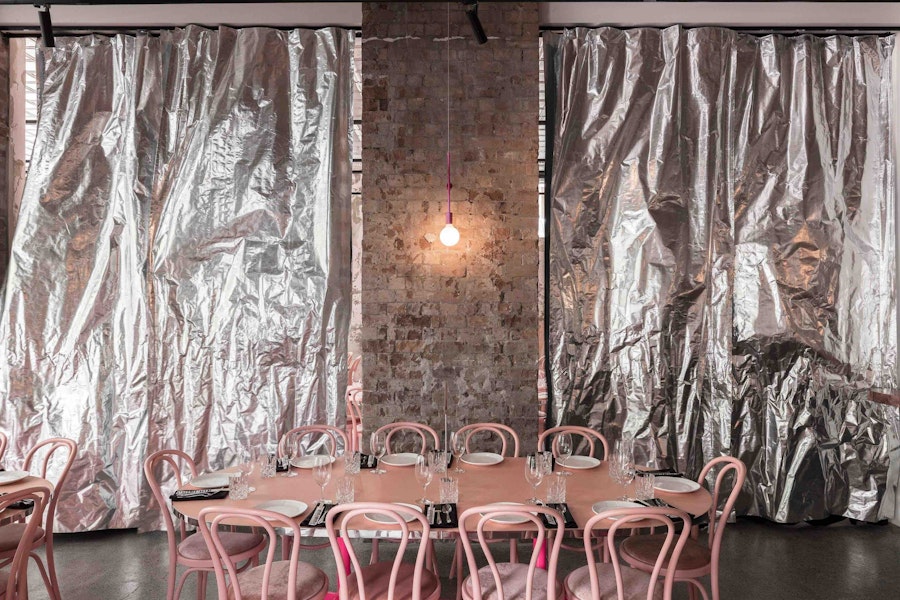 You design restaurants and retail stores in the age of digital transformation and automation — are you considering these industry challenges when designing? 
I'm just sticking to what I know, which is creating an experience that responds to the brand and what it wants to do. These things do come up through conversations with clients — for example, having 'Instagrammable moments' as part of an interior has now become part of the brief. I don't pay much attention to that because I think that's a very cheap way of looking at a space. If the space you create isn't Instagrammable as a whole, you've done something wrong. 
It's also not entirely about the space either. If we're doing a restaurant, the focus should be on the food and drinks program. Of course, we're trying to create an environment that enriches that, but if someone's taking a photo of the floor detail and not the food, again, you've done something wrong.
Chin Chin was interesting to me as one of the first brands I've worked on that does in fact have an incredible sense of brand. They have a cute looking mascot — another first for me in the restaurant space. I don't think they created that for social media, but when they opened in Melbourne it suited the demographic so well and became this Instagram-worthy thing. It wasn't about 'what tools can we use to get more photos', it was about a cultural philosophy to sit alongside their brand and food philosophy: young, punk, energetic, all the things that make you want to go there and get a photo of the bunny. 
You mentioned an older way of working in pencil and paper, do you prefer that method to modern technology? 
I grew up and was taught in the era of paper and it would be my preference today. The work we do is much more fulfilling when you're drawing rather than being on a computer. I will always start a project by hand-drawing the plan, it's all I know how to do, it's how my creative process was developed and it's the way I think. Of course the people in the studio who are more digitally savvy and grew up with that, their speed is incredible. And I get it, it's an advantage, but the romantic idea I'll hold onto is that it's nicer to draw. The design direction when you hand-draw is also different, particularly when you're at the drawing board because it's already restricting you to a linear parameter rather than complex curves — there's a simplicity and minimal-ness to it which is appealing to me.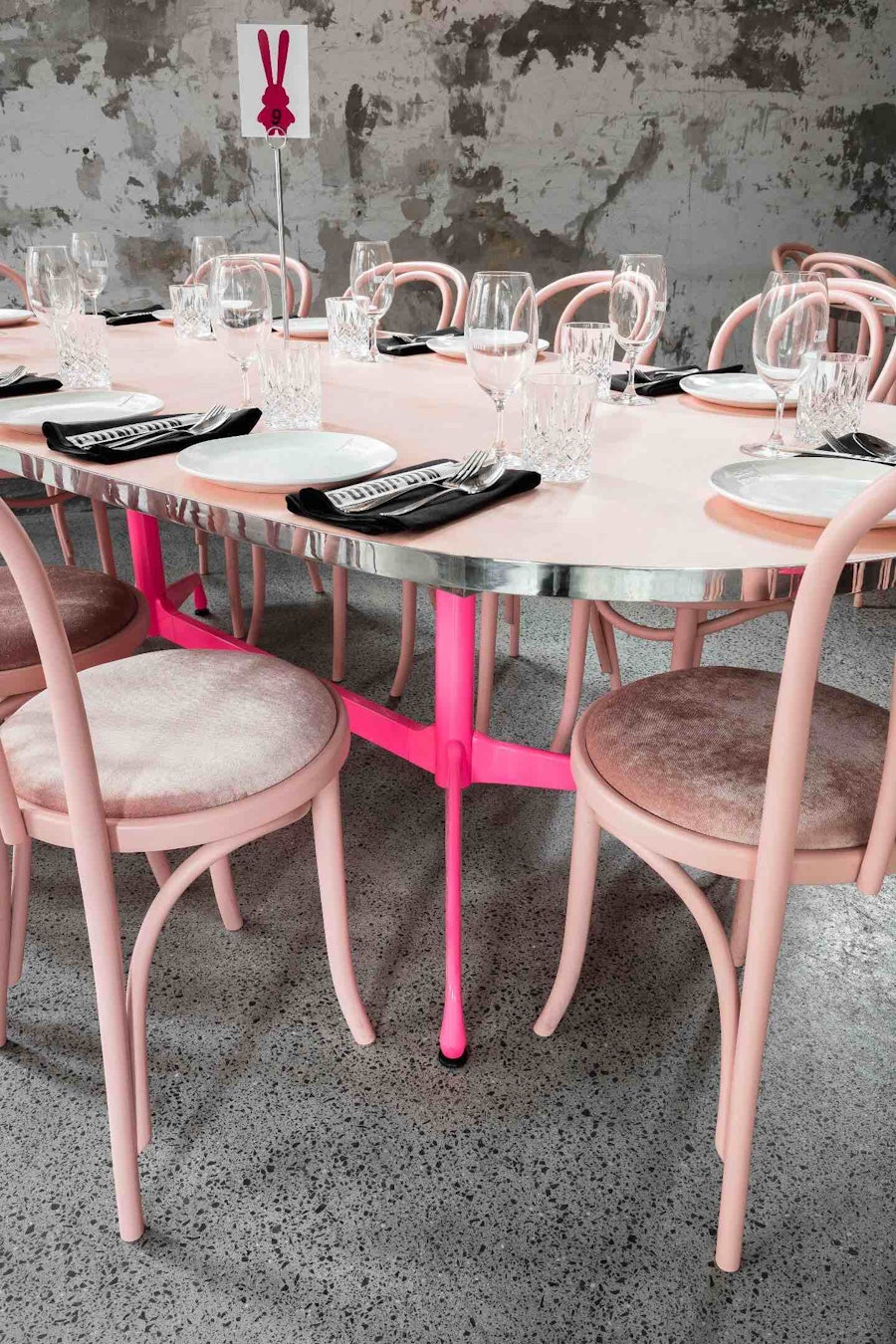 How do you feel about design and manufacturing innovations like 3D printing and virtual reality? 
We have a 3D printer in the studio which is a great, time-efficient way of getting block models produced so we can do studies in form plus prototype furniture and objects. When it comes to photo-real perspective drawings, we don't produce those in-house. I prefer a hand-drawn perspective. When all those technologies didn't exist, there was more trust between the client and the creative to deliver what they were supposed to. Now I think the client can sometimes see too much in that virtual experience. I think the creative person and the one with the experience is more aware of that feeling than you could ever get in a 3D model.
How do you think Australian design is growing internationally? 
Now and in the next ten years, there will be a greater opportunity for Australians (particularly in product and interiors) to start designing and manufacturing competitively with the rest of the world. 
When I first started working nearly 20 years ago I didn't feel like that opportunity was there. As an industry and country, we always looked overseas for design. There are some classic pieces people know and love from the U.S and Europe, but right now there'ss no reason we can't be producing the same level of quality. We're all exposed to the same information. Our style will develop with our market being smaller, but good design will always be attractive to an increasingly informed local market. 
We're also getting carried overseas with the brands we work on. For example, we did Apollo Ginza in Japan and a Jac + Jack retail space in London. I'm not sure if that could have happened at this speed and scale 20 years ago.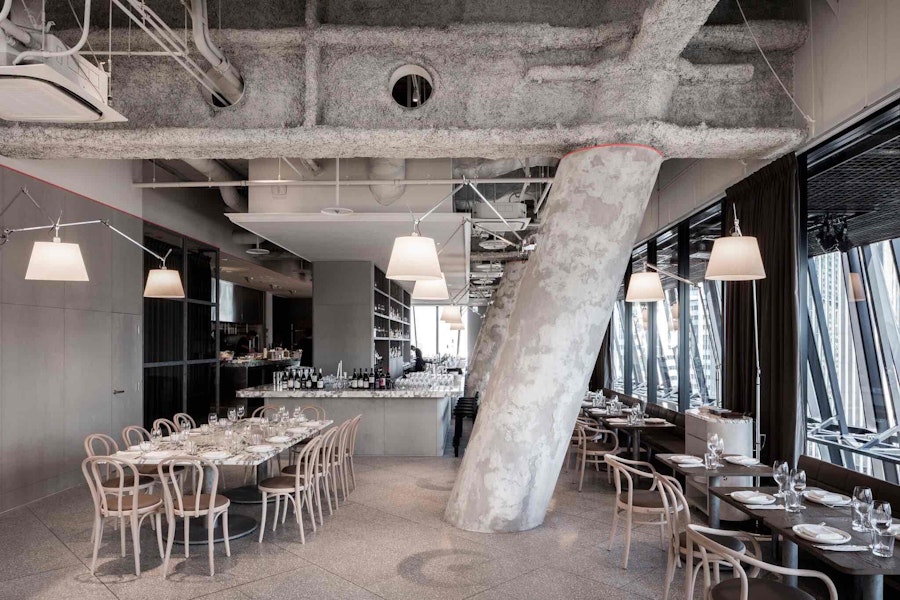 What do you think makes Australian design uniquely so?
I've thought about this a lot — to look back at my work as any type of 'Australian'. There's some incredible work out there by Australian architectural masters, that's iconically Australian because of the setting, the style and the material palette, which all has this local sensibility. 
A lot of the work I've done has an ethnicity to it, whether it's The Apollo or Billy Kwong or Cho Cho San, but someone would never design a restaurant like that in Greece, China or Japan. So our sensibility is about softening the culture that is around those ethnicities towards something we know. Our link to those ethnicities, mine is of Greek background, is a much-softened identity, so the aesthetic follows. It's an amazing position to be in, we have the ability to tap into the best of so many cultures and present them in a unique way — it's not traditional, it just has a heritage of being passed on with a little bit of lost information. 
...and we'll deliver fresh, inspiring news and updates on all things Dropbox and industry related. Just enter your email and you're good to go!