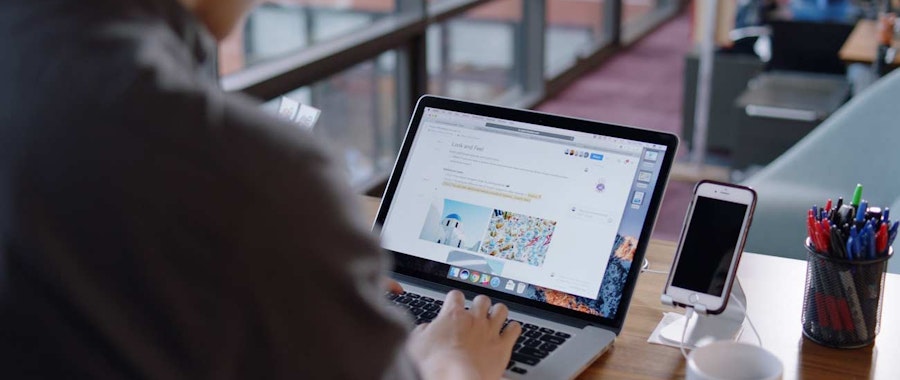 Work Culture
•
August 10, 2017
Five team tasks made easier with Dropbox Paper
Whether it's brainstorm notes on post-its, ideas on napkins; meeting notes, task lists, projects plans, or just a random thought you didn't want to forget – turning scraps of paper into a cohesive document is hampered by the hours required to make it logical. We think we have a better solution.
It's called Dropbox Paper – our own version of 'paper' where teams can come in and work on documents simultaneously and collaboratively. Here are five ways it will change the way your team works together, and a template to get you started. 
Collating Resources
The project has begun and everyone is bursting with ideas. The designer has a bunch of mood imagery, and the research department has built some consumer profiles to start off with. Designate a Paper document for resource collection, and give some useful headlines to sort the document. All of a sudden, you'll have a live document (hopefully) bursting at the seams with useful information.
Taking Meeting Notes
Meeting notes are essential, as feedback and direction on initial project sketches can be missed by attendees. To get the crucial bits down, make a Paper doc for the meeting, then invite all the members to collate notes afterwards. Headings, sub-headings, bullet points or numbered lists can all be used to sort the sprawl of notes into something neat and actionable to get everyone up to speed or fill in someone who was away.
Creating Task Lists 
Tasks come in many varieties: sometimes you just want a simple checklist for yourself; other times, you need specific owners, deadlines, and reminders for the whole team. Paper task lists can cater for both. You can insert tasks anywhere, even in the middle of notes, within tables, or alongside photos.
Need to manage tasks for a whole team? With just a few extra clicks, you can assign each task to a colleague, and if you'd like, set a deadline. These task options all appear whenever you create a checkbox, so there's no need to interrupt your creative flow. Task owners will receive an email reminder the day a task is due to make sure everything stays on track.
Outlining Projects
For big projects, you often need to combine a little bit of everything into a single doc. Maybe you need a list of top goals, a rundown of team members, and a roadmap of important dates all in one place. Paper is a natural resource for initiatives like these. For example, you might add in the best ideas from a recent brainstorm, highlight the biggest takeaways from the last meeting, and assign the first few tasks to get things kicked off. Plus, your teammates can add quick feedback on your list of top-level goals. You can also link to other Paper documents, like meeting notes or resources, making everything accessible cross-teams and across borders.
Scribbling Notes
While you're brainstorming, assigning tasks, or managing projects, you might need a simple place to scribble down a few of your own thoughts. Most files and websites are supported on Paper, so wherever your inspiration comes from, it can be collected in one place. You can keep these private, so the team doesn't see your less share-worthy ideas.
Paper, at its core, is designed to record your thoughts. Unlike a notebook, however, it should be a companion to record the ideas, from terrible to impressive, and be accessible to review thoughts wherever you are. Essentially, a less than fickle companion than normal paper.  
...and we'll deliver fresh, inspiring news and updates on all things Dropbox and industry related. Just enter your email and you're good to go!