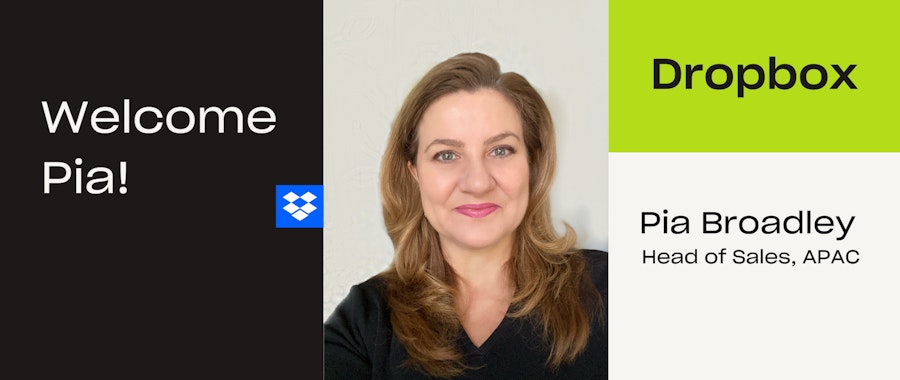 Dropbox appoints new leadership in APAC
Since our founding, Dropbox has helped people work more flexibly. Being a distributed team, we're uniquely positioned to build tools for other distributed teams, as we navigate the shift towards remote work, together.
We believe new working models require new tools and we're continuing to invest in APAC to help our customers thrive in the new world of work.
We're excited to announce the appointment of Pia Broadley in the newly-created role of Head of Sales for Dropbox APAC. The role will see Pia bring new facets of strategy and leadership to the Dropbox sales organisation across APAC, including in Australia where Pia is based.
Pia joins Dropbox with over 20 years of experience in the tech industry. She brings a wealth of knowledge from her background in distribution, reselling and IT service provision. We look forward to leveraging Pia's extensive experience to strengthen our partnerships with the channel as well as our customers.
"I'm excited to be joining Dropbox at an exhilarating time of growth, change and development. Dropbox's suite of products is so well positioned for the new world of flexible work, and I am blown away by our team's energy and passion for designing more enlightened ways of working for ourselves, our partners and our customers. I'm looking forward growing our APAC business by deepening the collaboration within our channel ecosystem and delighting our customers with the tools they need to thrive in the future of work," said Pia.
As Dropbox continues to scale in APAC, it's a great time to have Pia on board as part of the commercial leadership team. Welcome Pia!
...and we'll deliver fresh, inspiring news and updates on all things Dropbox and industry related. Just enter your email and you're good to go!