Work Culture
•
March 23, 2018
Dropbox and a designer's workflow
Despite being a relatively new tool in the word processing space, Dropbox Paper has slipped its way into the workflow of a lot of designers. When it launched, the simplistic design was a breath of fresh air in the stagnant note taking or document writing space; those of us tired of the bulky interfaces of these tools and were gasping for something fresh.
Dropbox's integration with our existing workflows, through file storage, meant that it was a natural progression for us to bring our text-based thoughts to the page inside an ecosystem we were familiar with. The integrations with third party services only cement the tool further into our routines.
I've been using Dropbox Paper almost exclusively now for up to a year, both in a personal and professional sense, and my efficiency has improved no end. From being able to find the documents I'm looking for, to sharing and contributing to ideas as a team, I've found the simplicity has offered more than more traditional processors ever have.
What do I use it for?
To write this article! Alongside preparing articles, I have a host of professional and personal uses for the product.
Professionally
Paper is the first thing I open on my laptop when heading into a meeting, whether at ideation or feedback stage. The to-do checkboxes allow me to quickly note at a high level what it is I need to achieve from each project. Once I've absorbed the feedback in micro to-dos, I head back to my desk and flesh out the document with more in-depth points to aid the design process. 
I frequently use Dropbox Paper with my clients. I can gather a team of designers and developers to organise a project checklist, features such as the embed support for InVision, Figma and Sketch allow for an efficient workflow, making it a first-class collaboration tool. — Kate Williams, Graphic Designer @ KEW Design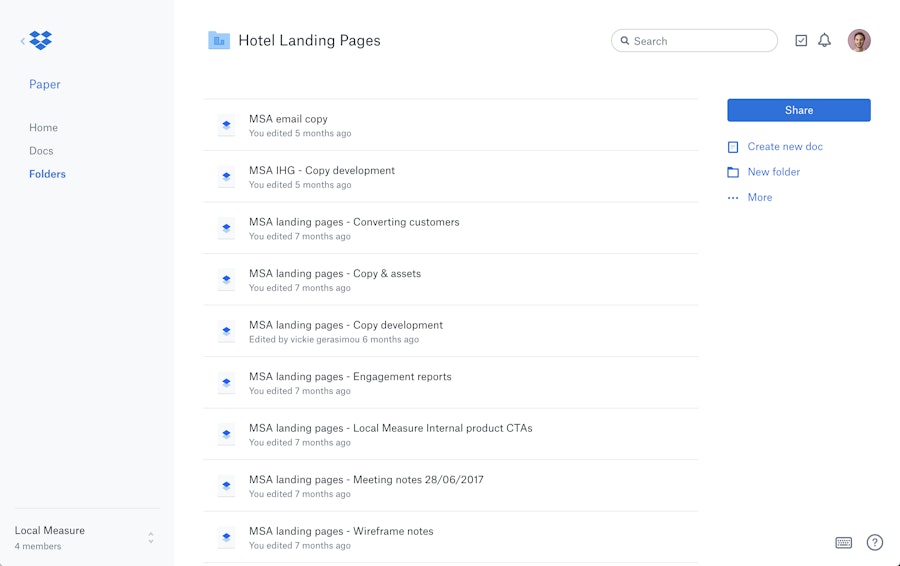 As you can see, I create a lot of documents
Not only is Paper used for feedback and job management, but I often use Paper for free-thinking on product features or idea generation. In the past, I've proposed new ideas to the team in docs, and also composed pricing strategies for our new product line, right inside Dropbox.
For the full product process, I'll create a document that holds our user research, embedded InVision presentations and also a to do list to make sure I'm in check with what needs to be done.
My most used feature in Dropbox Paper is the table as it's super easy to incorporate and edit. Also a nice surprise how Paper pulls in previews from links; when I pasted an InVision link into a document, it automatically embedded the prototype preview. — Jessica Tong, Product Designer @ Koala
Personally
One of my favourite features of Paper is my ability to switch between personal and work accounts very easily.
The curation of my weekly newsletter happens throughout the week, as I'm constantly reading to find interesting posts to feature. I manage each newsletter inside Paper, organised by folder and each issue name. The freeform nature of Paper gives me an opportunity to draft my newsletter inside a document before I paste it all into my Mailchimp template.
My newsletter files
My latest side project, 8px Magazine, is also something I manage inside Paper. 8px is a digital magazine that I use to showcase the human side of designers, through articles and interviews with designers across the world. Again, using folders and a consistent naming convention, I can manage my leads, interviews, articles and sources all inside Dropbox without having to leave before I publish on Medium. Again, it's the simplicity of the platform that allows me to scale the project quickly and efficiently.
Professionally and personally, Paper is where I write all reflections after I finish a task during the day. Reflecting on what went well, what went bad, and how I can improve; I highly suggest this for any career path. — Micah Carroll, Designer @ Ring
Paper has found itself becoming an essential part of my personal and professional life, and document creation feels a lot less of a burden now that I have. I even use Paper to plan quizzes that I prepare for trips away with friends, as the mobile app makes it very easy to access my docs whilst on the road.
It's the convenience and lightweight nature of Paper that makes it my first call for documents, notes, and to dos. Not only that, being notified when a shared document is being worked on has saved me tonnes of time not having to follow up via email for collaboration. Going forward, my use of Paper will only increase as I scale my writing proposals and interviews.
If you're a designer that has been trying to kickstart writing for a while, open a Paper doc and jot down your ideas. You'll have an article written up in no time.
...and we'll deliver fresh, inspiring news and updates on all things Dropbox and industry related. Just enter your email and you're good to go!