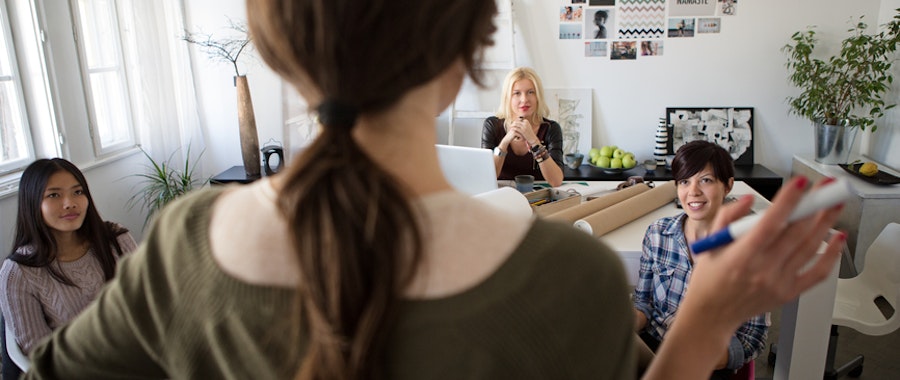 Made in Dropbox
•
October 12, 2015
Building a presentation resource centre
Running a business involves using a wide range of documents. These might include quotations, estimates, invoices, meetings minutes, proposals, contracts and strategy documents. Perhaps most important of all, you'll make use of presentations. Whether for internal marketing briefings or client sales meetings, presentations are a vital part of doing business.
Many of the presentations you send to clients or use internally will be based on templates. These save time and help you standardise your business processes. Unfortunately they are also vulnerable. All it takes is one employee to accidentally save over the top of a template instead of choosing "Save As...," and that template is ruined. 
Of course there are ways of preventing this. You could ask each person who creates a template to save it as a read-only file. But your staff have busy working lives, so they won't always remember to do this. Fortunately there's another way to ensure consistency right across your organisation. You can create a presentation resource centre instead.
This may sound complex but actually it's straightforward. In fact it's simpler than creating individual read-only files. Dropbox for Business lets you create a resource centre by setting view-only folder permissions. This means that your employees can access the presentation templates you create, but not overwrite them.
It's particularly useful when using Dropbox for Business in a team environment. You can set view-only permissions for team members, so that they always see the latest versions of the templates. But – most importantly – they can't edit them or overwrite them.
View-only folders are automatically updated to all team members if you're using team folders. You can do the same thing with shared folders simply by specifying who you want to share them with, and how.
This resource doesn't have to be limited to the people in your building, or even in your business. Although it's common to restrict templates to your immediate team, you can open up your presentation resource centre to a wider audience. Perhaps you might choose to share resources with your business partners, clients or other stakeholders.
That can be done easily with shared links. Again, these ensure that everyone has access to the most up-to-date templates and presentations. You can send a link to a file or folder, which allows recipients to view and download a copy of it – but not edit it.
It's is a great replacement for sending email attachments. And it's dynamic, so if the template is altered, the person using the template still gets the most up to date version – whenever they open it.
You're not limited to presentation templates, of course. You can set up any type of resource centre and make it view-only. In this way you can ensure that you – and only you – maintain tight control over the look and feel of every type of document your business uses.
It's a simple thing to do, yet it can have a big impact. One of the key factors in business success is consistency. With a template resource centre, your team's presentations will always be consistent, up to date and professional. It's the easiest way to manage your templates.
...and we'll deliver fresh, inspiring news and updates on all things Dropbox and industry related. Just enter your email and you're good to go!