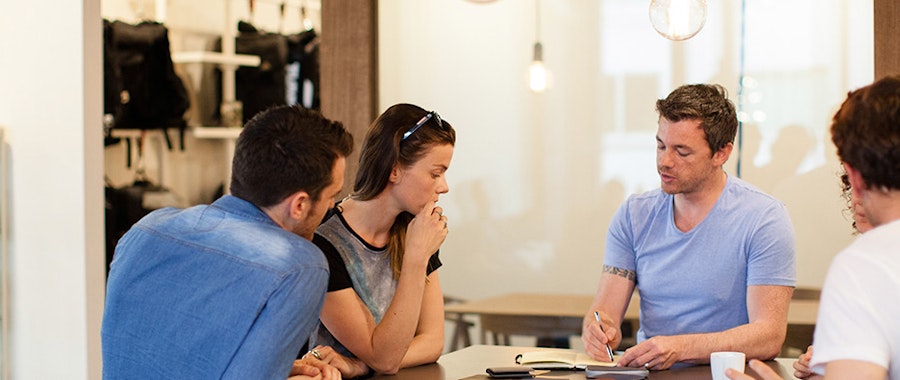 Work Culture
•
July 26, 2016
Bellroy embraces sleek functionality and streamlined workflows
Accessory designer Bellroy talks expanding operations, minimalism, and Dropbox Business.
In 2010, accessory designer Bellroy – whose namesake comes from its first two offices in Bells Beach and Fitzroy, Australia – set out to simplify the way people carry their everyday items. In the process of developing their collection, Bellroy grew – their operations had grown to include a partner agency in Portland, Oregan, a product development partner in Melbourne, and a rolodex of overseas suppliers.
Simplifying workflows
With minimalism and corporate agility as its all-guiding philosophy, Andy Fallshaw, Co-Founder and CEO of Bellroy, saw a growing problem. As different teams communicated and shared files across a number of storage systems, workflows proved counterproductive and file versions became hard to track.
Fallshaw explains, "Our designers and distributors work around the clock, from all different countries, and it's really important that they all work on the latest files."
One of the storage systems in the mix was Dropbox, and ultimately, Bellroy opted for Dropbox Business as an business-wide solution. The reasons were numerous but namely, Dropbox Business offered a central location for constantly updated files, with superior security.
Pocket-friendly
Style moves fast – fortunately it's easy for Bellroy's designers, staff and freelancers to keep on top of projects, even when they're on the move.
"Our permanent staff and freelancers travel between offices and countries quite a bit," explains Fallshaw. "It's nice to know they can just pull up their files anytime with Dropbox Business." 
Beyond collaboration, onboarding has greatly benefited from Dropbox Business. Thanks to what Fallshaw calls the "easy icon at the top of the screen," new employees can get up to speed on file sharing fast, with less training and fewer user errors.
According to Fallshaw, "It relieves a lot of the stress of bringing on someone new."
Belongings protected
Security is important in an industry flooded with counterfeits and imitators. Fallshaw cites control as one of the key benefits of Dropbox Business for Bellroy.
"I think with some other solutions, whoever starts a file or a version has ownership of it. With Dropbox for Business, it's clear that Bellroy is the owner, and will always control who gets access to the file and who doesn't." He adds, "Dropbox Business helps us ensure that everyone sees the right versions, and it lets us deal with larger files more easily."
Smooth operations
The benefits to workflow and onboarding have freed up the team at Bellroy, wherever they are or whatever capacity they are working in, to hone in on the details.
Says Fallshaw, "Having Dropbox Business around means our team can concentrate on adding value for consumers instead of trying to figure out how to make software or files work."
Find out how Bellroy and Dropbox are working together. Download the full case study.
...and we'll deliver fresh, inspiring news and updates on all things Dropbox and industry related. Just enter your email and you're good to go!