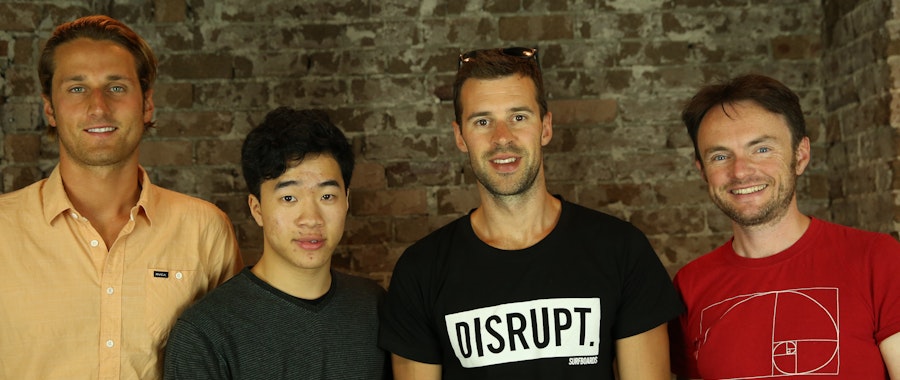 Work Culture
•
December 2, 2015
The 6 reasons we moved manufacturing to Australia
In this post you'll see why Disrupt, a platform that enables you to design your own sports equipment, has moved all our manufacturing to Australia.
It's a widely held assumption that to be competitive in product marketing you need to manufacture your goods in China (or even Bangladesh, Thailand or similar) where wage rates are low and you can make things 'cheaper'.
At Disrupt, I'll be the first to admit that we thought this was the only viable option for us. The majority of the other sports manufacturers were over there, and we had to use their facilities and products in our offerings (same materials, same quality, your design). We faced a number of issues over the past year which lead us to announce this week that all our goods are now proudly made in Australia.  It's for these reasons we made that decision:
1.   Start-Up cycles
One of the many lessons I learnt from Mick Liubinskas (muru-d entrepreneur in residence) was that your main focus as CEO is find product market fit before you run out of money. The more runs you get on the board, the more trials and tweaks you get to make, the better your product and team become, and the closer you find yourself to product market fit.
Manufacturing overseas, regardless of where, means you often need to get on a plane, wait a few extra hours for a phone call or document, and wait an extra 2-3 weeks for delivery. This slows your cycles down, especially when you're creating hardware and software, which doubles the number of cycles required. Hardware is hard and there's no going back once a product is made, if we need to change a pantone colour or fix an angle. This often took a cycle of four months.
It's worth paying extra in order to go through more cycles in less time. As with all startups, you build in process and automation when you know a lot more about what you're doing.
2.   Liam Neeson
Liam Neeson spoke on behalf of the Australian startup industry in his film Taken (I'm being a little liberal here but roll with it):
"I can tell you I don't have money. But what I do have are a very particular set of skills, skills I have acquired over a very long career."
Australian products may be more expensive, but in certain industries we bring a very particular skill set that overseas manufacturers just cannot match. During one of our data reviews, the Disrupt team realised we were offering something of great value that is incredible hard to deliver on: fully customised sports equipment for the same price as retail. This means we needed to ensure the production line was never slowed, that manufacturers could understand on-demand order instructions and we're willing to "give it a go."
3.   Speed
Part of our proposition is that we're disrupting retail distribution: that instant gratification that you get walking into a store and walking out with your sporting goods. Over seventy percent of sporting goods are still bought in this way. We need to be fast - not just guaranteed 5 weeks fast, but ultimately 48 hours fast. For large bulky items, where air shipping is expensive and sea shipping slow, local manufacturing was the only viable option.
4.   Accountability and returns
Being based locally, manufacturers take more accountability for their products, by attitude and by law. Payment terms reflect this and friendly terms are easier to negotiate into contracts. Overseas manufacturers generally expect payment before goods arrive, meaning you're stuck with any issues. This impacts the bottom line.
5.   FX rate
Whilst this is a more boring traditional inclusion, I'd be lying if I didn't mentioned the US/AUD exchange rate. The AUD coming off the back of the mining boom is expected to stay low for some time, and I believe we're going to see more companies moving manufacturing locally. Let's wait for the trade balance figures to see the data.
6.   Scalability
The most important reason we moved to local manufacturing is to enable greater scalability of the Disrupt platform and our product range. Making product locally, putting the accountability on the manufacture, and having them distribute means we become infinitely more scalable.It's enabled us to sign partners in Portugal and the UK to produce equipment for those markets and was so simple we're potentially looking at expanding the US next year. This really sums up all the other points above but is by far the one that makes me most excited.
So those are my top 6 reasons. Now, a shameless plug:
If you want to support an Aussie start-up, with Aussie made goods, got to DisruptSurfing.com and design up a surfboard. They make great Christmas or corporate gifts.
...and we'll deliver fresh, inspiring news and updates on all things Dropbox and industry related. Just enter your email and you're good to go!