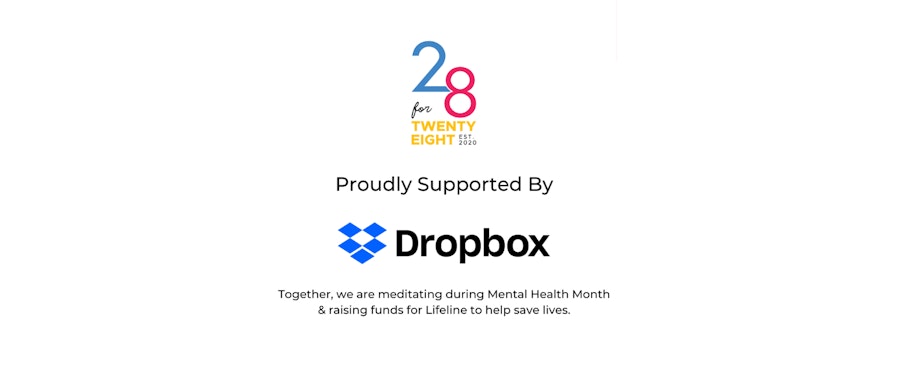 News
•
September 28, 2020
28 for Twenty Eight - making meditation mainstream in October
2020 has been a huge year for work, with workplaces needing to change suddenly to distributed work and keep work moving. At the same time some individuals have felt increased pressure due to health concerns, changes at work, changes at home and a huge list of other factors.
Over the course of the year, as knowledge workers like us have been adapting to life working from home, and all the complications that entails (childcare, homeschooling, pets, family and home offices) - businesses have been paying extra attention to staff mental health.
In Australia, Lifeline has reported a 30% increase to support calls, which means more Australians are feeling the strain of work, working from home, and dealing with the COVID-19 pandemic.
At Dropbox, we've been hosting meditation sessions for workers at home, as well as weekly social sessions, chill out music stations and coffee sessions for our teams. But going into October, we've been talking to the team at Making Meditation Mainstream about how meditation can help relax the body and focus the mind - making day-to-day work a little bit easier.
In October, Making Meditation Mainstream is raising money for Lifeline, to ensure Lifeline can continue to answer those life-saving calls, and also so that we can do our part to help make meditation a part of everyday Aussie life. Each call costs lifeline $28 in staffing, training and logistics, so we have pledged our money, and will be raising more to support this cause.
28 for Twenty Eight is happening in three simple steps:
Meditate for 10 minutes a day, for 28 days - tune in to the free guided meditation every day to help your own mental health journey
Donate $28 to Lifeline, to help answer one of these incredibly important calls
Share with your friends, to help normalise mental health conversations
Over the month of October, as a part of our ongoing Dropbox For Good initiative, we will have a number of Dropboxers completing 28 days of meditation, and checking in with blog updates along the way, so check back for that content in a couple weeks.
To find out more about the event, head to the Making Meditation mainstream Facebook page, you can donate here, or check out the video below from the founder of Making Meditation Mainstream (MMM), Jason Partington:
...and we'll deliver fresh, inspiring news and updates on all things Dropbox and industry related. Just enter your email and you're good to go!